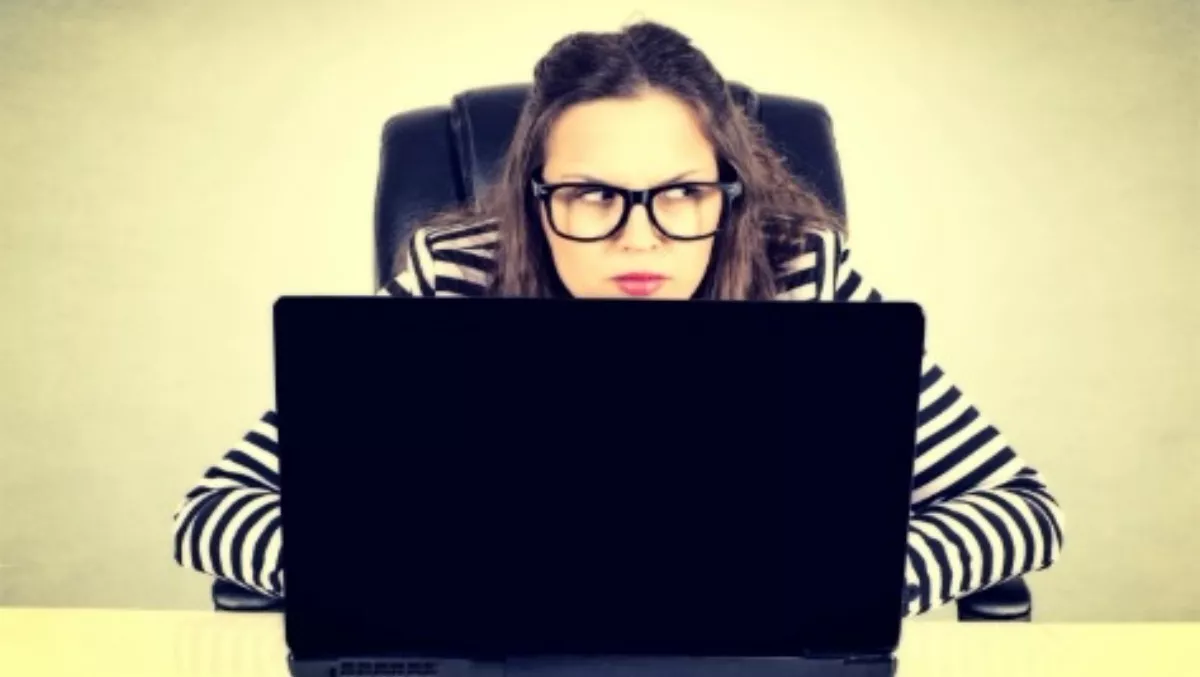 Are your staff side-stepping security protocols?
FYI, this story is more than a year old
Businesses are being left vulnerable as staff side-step security protocols, according security experts ESET.
"For those who are less familiar with the cybersecurity space, some of the rules proposed by businesses trying to stay safe, can seem like they are designed just to make life difficult, the company says.
Not being able to download applications or have access to certain websites, as well as an emphasis on strong passwords and complications around working remotely, are just some of the common issues employees in businesses across Asia Pacific have to deal with.
ESET says it is unsurprising that a rise in shadow IT is occurring.
Employees are increasingly using apps, cloud services, software and devices that are outside the knowledge and control of the CIO and IT staff.
Somewhere between 15% and up to 30% of IT spending now occurs outside the standard consolidated budget of the IT department, according to research from PwC.
The Cloud Security Alliance (CSA) revealed in its 2015 report that nearly 72% of executives and IT managers surveyed in APAC and the rest of the world admitted that they did not know the number of Shadow IT apps within their organisation.
"This a real issue for businesses of all sizes," states Parvinder Walia, sales director for ESET Asia Pacific.
"On the one hand it's important for businesses of all sizes to have the security solutions and protocols in place to protect their assets and it must always be remembered that people are any business' first line of defence, so making sure staff are up-to-date on best practices is a must," Walia says.
"It's equally important however to ensure that what you have in place and the information being provided to employees isn't over complicating the situation, which could encourage staff to sidestep rules and regulations in order to avoid a loss in productivity. "
Walia highlights the need for CIOs and IT department to take charge and really understand the situation from their employee's perspective in order to find a solution that allows people to work effectively, without leaving the business vulnerable.
"Finding a happy medium is crucial, " says Walia, "in allowing employees to take advantage of technology that drives productivity and business growth, without compromising the security of the network.
"By understanding which apps, websites and other behaviours staff find useful to complete their work effectively and efficiently, it should be possible to work out bespoke solutions and approaches to protocol that provide the best of both worlds."
Walia points out there are some things that should not be overlooked, and that need to be communicated clearly and regularly to employees in order to ensure that systems and data remain protected.
"The need for complex passwords is something that people often moan about, even to the point of sidestepping the rules," Walia says. "This is often the case with top level management, who often have the attitude that it doesn't apply to them. This always scares the life out of me because in theory they're the people with the most to lose."
Still, following the password rules doesn't have to be hard to be safe, according to Walia. "Just because you have a pattern, doesn't mean that pattern can be guessed. When computers brute force passwords, they're unable to look at patterns. You could use the same sort of song title or film description and put unique things in for that website or login."
Walia says passwords should always be reviewed, although it is dependent on circumstances. "If you use two factor authentication, you could potentially compromise. If username and password is your only means of protection, it should be changed at least every 30 days, as if a hacker is doing their job right, you're not going to know they've got the username and password, so the sooner it's changed, the better."
The need for applications to be screened and installed by IT departments is possibly the easiest one for anyone to understand, says Walia.
"Even those with a basic knowledge of business security and malware should be aware that many free applications on the internet carry serious risks.
"But this needs to be made clear and there really needs to be a degree of what can and can't be installed in the workplace, but the reasoning needs to be explained."
Walia believes that a simple explanation of the business security policy and assistance in finding alternatives is the best way to ensure everyone is happy.
"If users and staff are up against technical people, that's when people don't do things because it's too much hassle," Walia says. "A final common issue is difficulty in working remotely - a clear problem, given we now live in a world of flexible hours and 24 hour business."
The right policies mean this doesn't need to be a difficult scenario.
"It's not a difficult thing to get up and running. This would be a company laptop, a good secure means of gaining communication, setting up an encrypted VPN, setting up two factor authentication and making sure the security is up to scratch."
Aside from that, as long as workers are educated in what they can and can't do, and where they can and can't login from, Walia is confident that most employers and employees will be happy. Walia says none of these personal issues should be a seriously difficult problem for companies to fix, with the right education and communication in place.
"Technology is an incredible tool and one that all businesses should embrace in order to optimise their workforce, services and solutions, however security is the underlying enabler that cannot be overlooked," says Walia.
"And this doesn't end by having a security solution in place. Ultimately, people are an organisation's first line of defence, so getting the team on board and up-to-speed is what will make the real difference."
Related stories
Top stories