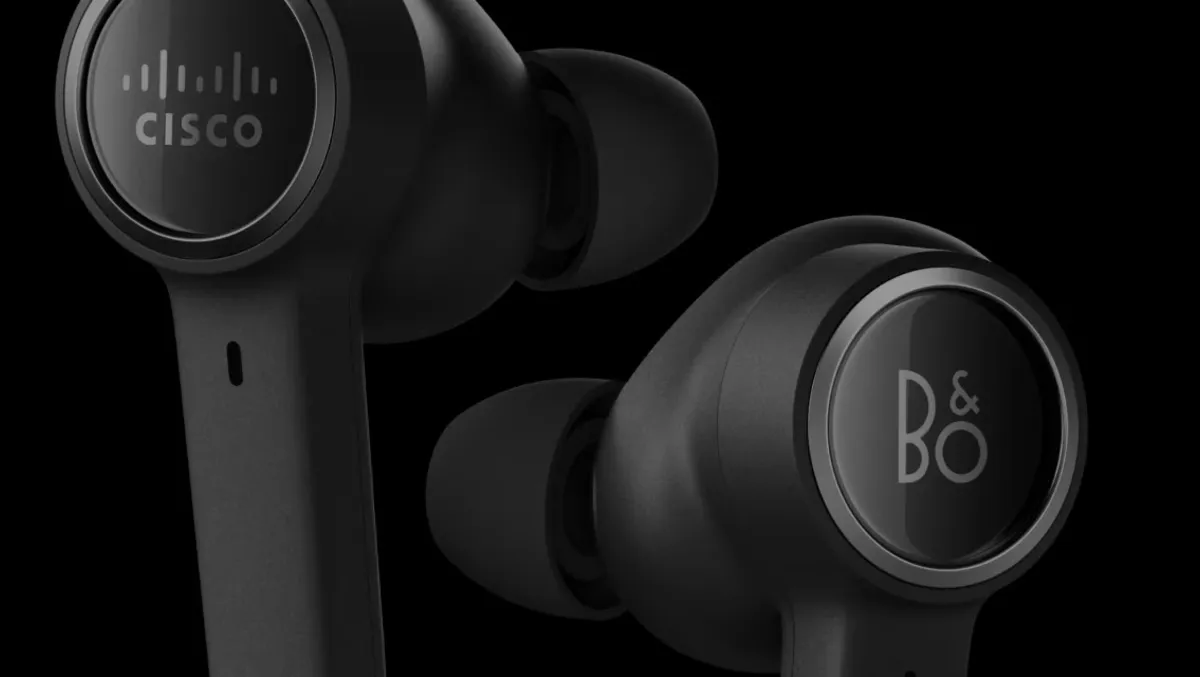 Cisco and Bang & Olufsen release new wireless earbuds for hybrid work
Cisco and Bang & Olufsen have launched the Bang & Olufsen Cisco 950, a set of enterprise-grade wireless earbuds designed with high-end aesthetics, premium sound quality, advanced security and manageability features.
This product expands their collaborative partnership as they strive to provide top-quality audio experiences for their customers, whether at home, at work or on-the-go. The product addresses the growing customer expectation for multifunctional devices that match their lifestyle both inside and outside of professional settings.
As the hybrid work model allows more flexibility in how and where people work, these new earbuds provide an audio solution for seamless collaboration from any location. Furthermore, they are fully manageable on Cisco's Control Hub platform, which provides IT teams with superior visibility and control over their entire fleet of collaborative devices and peripherals.
Cisco is the worldwide technology expert that securely connects everything to make anything possible. Its purpose is to power an inclusive future for all by helping customers reimagine their applications, power hybrid work, secure their enterprise, transform their infrastructure, and meet their sustainability goals.
Complimenting Cisco, Bang & Olufsen is a luxury audio brand founded in 1925 in Struer, Denmark, by Peter Bang and Svend Olufsen, whose devotion and vision remain the foundation for the company. The company's products are characterized by their unique combination of sound, timeless design, and craftsmanship.
Snorre Kjesbu, Senior Vice President and General Manager of Webex Devices at Cisco, and Duncan McCue, Vice President for Business Development and Strategic Partnerships at Bang & Olufsen, have both expressed excitement over the expanded partnership. They believe that the Bang & Olufsen Cisco 950, with its advanced features for secure collaboration and incomparable sound innovation and design, makes it the right fit for hybrid workers looking for immersive audio experiences.
Snorre Kjesbu says: "As businesses continue to embrace the flexibility of hybrid work, employees need professional-grade tech solutions that enable work from any setting."
"We are excited to expand our partnership with B&O to deliver exceptional audio experiences with extensive functionality and timeless design and craftsmanship," says Kjesbu.
Duncan McCue says: "We are excited to expand our partnership with Cisco to deliver the Bang & Olufsen Cisco 950. Equipped with Cisco's advanced features for secure collaboration and Bang & Olufsen's unparalleled capabilities in sound innovation and design, these earbuds are perfect for hybrid workers who want immersive audio experiences."
The earbuds are packed with features that elevate user experience, including enhanced connectivity and functionality, enterprise-grade security and manageability features, extended interoperability, and a comfortable and sleek ergonomic design.
They offer long battery life, high-fidelity audio, and adaptive active noise cancellation. Additionally, they provide in-ear voice notifications, on-ear controls, and Bluetooth 5.2 for quick pairing.
IT administrators can easily maintain and securely update the device through Webex's Control Hub, where they can also gain insights into device inventory and utilization to maximize return on investment. The earbuds are optimized for Webex and pair perfectly with other Cisco collaboration devices.
Importantly, they also exhibit extended interoperability, allowing quick and simultaneous pairing with both Android and iOS devices without compromising the sound quality. The Bang & Olufsen Cisco 950 will be available for order starting in November.