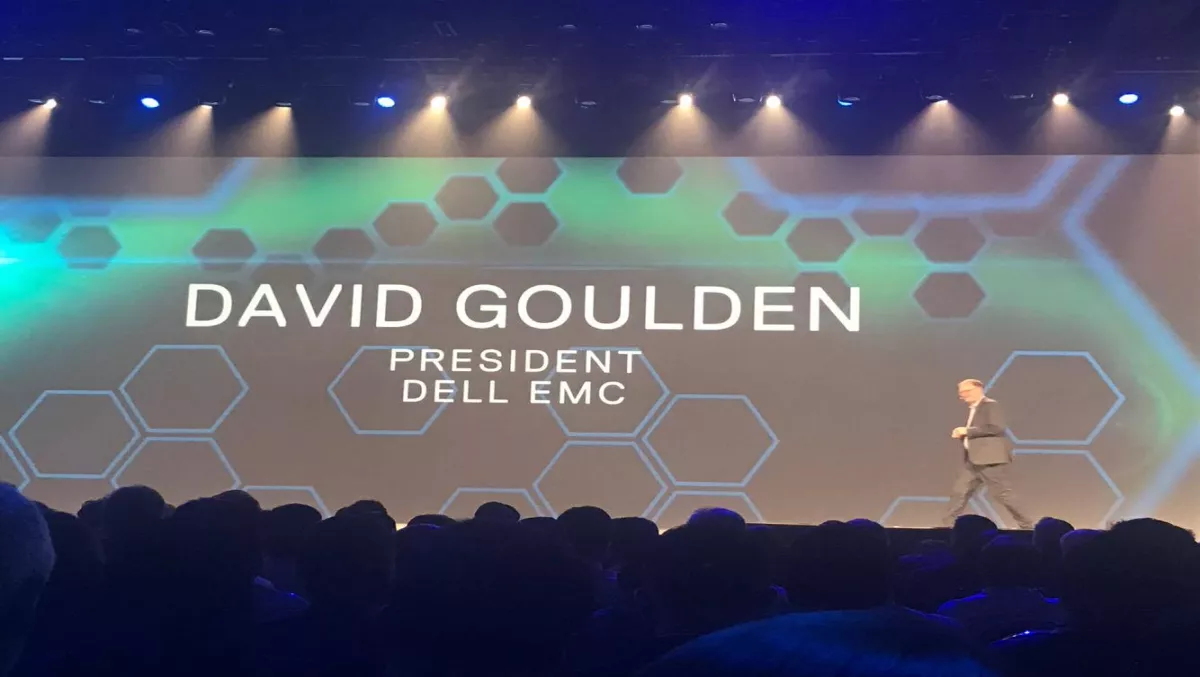 Dell EMC launches refreshed portfolio with IT transformation focus
FYI, this story is more than a year old
Today is the first day of Dell EMC World - an event that brings together people from outside and inside the technology industry.
So far, a range of attendees have taken the stage, from Dell EMC CEO Michael Dell and CFO Tom Sweet to the magician David Blaine and Jaguar Land Rover's CIO Simon Bolton.
During his speech at the event's opening keynote, David Goulden introduces a range of new Dell EMC products. One of these is the 14th generation of PowerEdge Servers.
Executing a successful digital transformation, an overarching theme for the event so far, is the end goal of the new 14th generation of PowerEdge Servers. The solution aims to help customers accelerate their IT transformations.
The newly designed 14th generation of the Dell EMC PowerEdge server portfolio forms a secure, scalable compute platform that is the ideal foundation for cloud, analytics or software-defined data center initiatives.
Dell EMC introduces the newly designed server portfolio as an ideal foundation for cloud, analytics or software-defined data center initiatives.
This portfolio delivers innovation in three key areas – data center architecture; Enterprise IT and security.
With a scalable business architecture, the portfolio aims to equip data centers with a wide variety of new and emerging workload requirements.
The server aims to free up time for those in IT through the utilisation of intelligent automation via expanded APIs and the OpenManage Enterprise console.
Intelligent automation, expanded APIs and the OpenManage Enterprise console, aims to direct more of IT time to high priority work.
Integrated security protects customers' businesses and data for the life of the server.
Ashley Gorakhpurwalla, president, Server Solutions Division, Dell EMC, who joined Goulden on stage during the introduction this morning, comments on PowerEdge servers.
"In today's digital economy, technology must transform at the speed of business to develop and deploy new applications, optimize resources and deliver an ideal customer experience."
"With our leadership in server technology innovations, the newest generation of PowerEdge servers are the bedrock of the modern data center," adds Gorakhpurwalla.
Businesses are undergoing digital transformation, and Dell EMC claims that legacy data center technologies are not agile.
These technologies are not flexible and efficient enough for the ever-evolving demands of these businesses engaged in transformation.
Yanbing Li, senior vice president and general manager, Storage and Availability Business Unit, VMware, says that adopting modern data center technology, such as hyper-converged infrastructure, is central to enabling IT transformation that supports the new demands of today's digital business.
This trend in the industry - these rapidly evolving business needs – motivated the development of the new portfolio 14th generation of the Dell EMC PowerEdge server.
Li continues, "the combination of the new Dell EMC PowerEdge servers and VMware solutions will accelerate this transition with reliable infrastructure that is less complex to deploy while reducing total cost of ownership."
Moreover, Dell EMC commissioned a study, Enterprise Strategy Group (ESG) 2017 IT Transformation Maturity Curve study that they reference in relation to their new server portfolio.
The report shows that only 5% of respondents are currently prepared to meet the IT requirements of digitally transformed businesses with modern platforms.
Features of this portfolio include:
• Increase application performance and response time – With 19X more Non-Volatile Memory Express (NVMe) low latency storage than the prior generation.
• Get results from PowerEdge faster – One-click BIOS tuning enables the efficient deployment of many processing-intensive workloads
• Access to the right data at the right time – With enhanced storage capacity and flexibility, customers can tailor their storage configurations to their application needs, this is especially critical in a software-defined-storage (SDS) environment.
Lisa Spelman, vice president and general manager, Intel Xeon Products and Data Center Marketing Group, Intel Corporation, comments, "with breakthrough performance, security and agility, the Intel Xeon Processor Scalable family represents the biggest set of data center platform advancements in a decade."
"A modern, multi-cloud-ready infrastructure built on industry-leading technologies from Intel and Dell EMC enables organizations to successfully transform into digital businesses," adds Spelman.
Dell EMC notes that further details and pricing information on the Dell EMC PowerEdge 14th Generation servers are expected to be available in mid-2017.
Related stories
Top stories