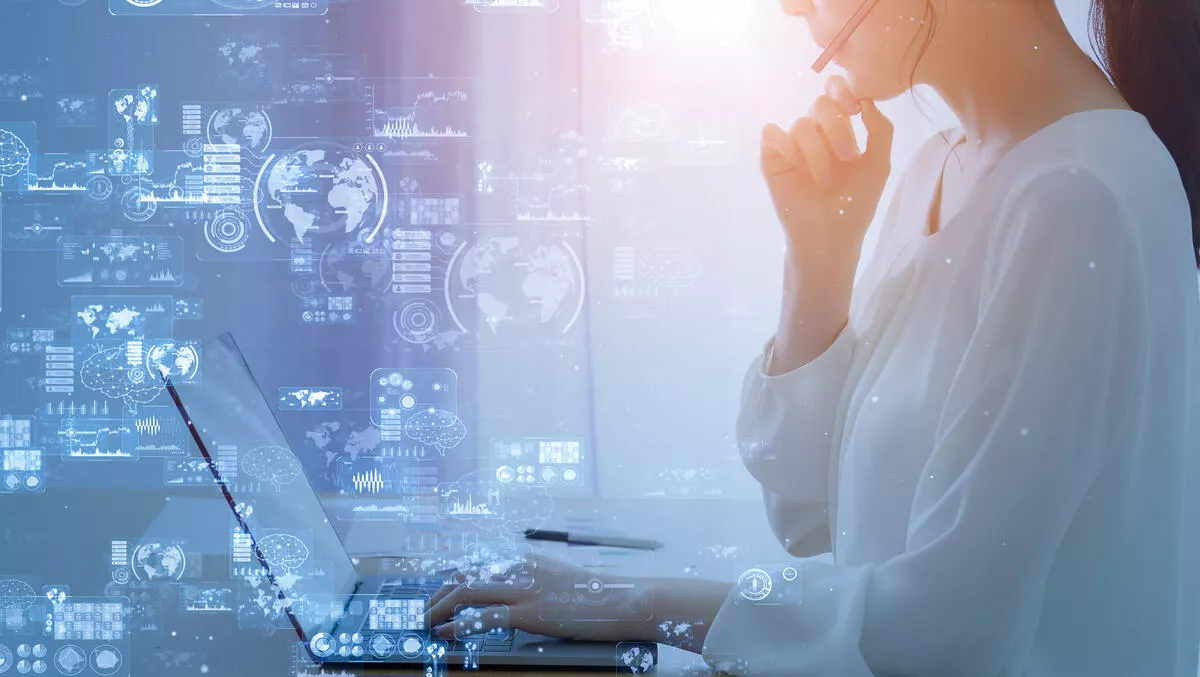 Enhancing the digital experience for hybrid workers
FYI, this story is more than a year old
When a global pandemic struck in early 2020, and the world retreated indoors to keep themselves and others safe, the way we worked changed drastically. It forced many to perceive work differently, and many employees saw benefits in working from home. For example, they no longer needed to spend valuable time commuting to and from the office, which facilitated an improved work-life balance for many.
Meanwhile, employers kept a firm focus on productivity and how the shift to remote working affected the company's output and bottom line.
Now, as the population of fully vaccinated people increases, employers are looking towards the future of their workforce — whether a total return to the office or a hybrid model.
As they consider the possibilities, companies must ensure that employee digital experience is consistent across workplace models to optimise productivity. This means taking a tailored approach based on department or individual needs rather than making overarching decisions based on the average employee experience.
The Aternity Global Remote Work Productivity Tracker provides an example of how organisations can gain a deep understanding of the employee digital experience, its impact on productivity, and employee satisfaction using the Aternity Digital Experience Management Platform.
A week in the life: tracking two different workers
Aternity's Work Productivity Tracker provides a decision-making guide to hybrid work productivity. It examines employees' digital experience and productivity by comparing two workers: one working remotely, and one working both in-office and remotely as part of a hybrid model.
The comparison of the workers sheds light on how specific applications perform differently in home versus office environments, and highlights how different people use disparate applications in different patterns. Based on the comparison, employers can discern which roles are better-suited to remote working and which are best left in the office.

The hybrid worker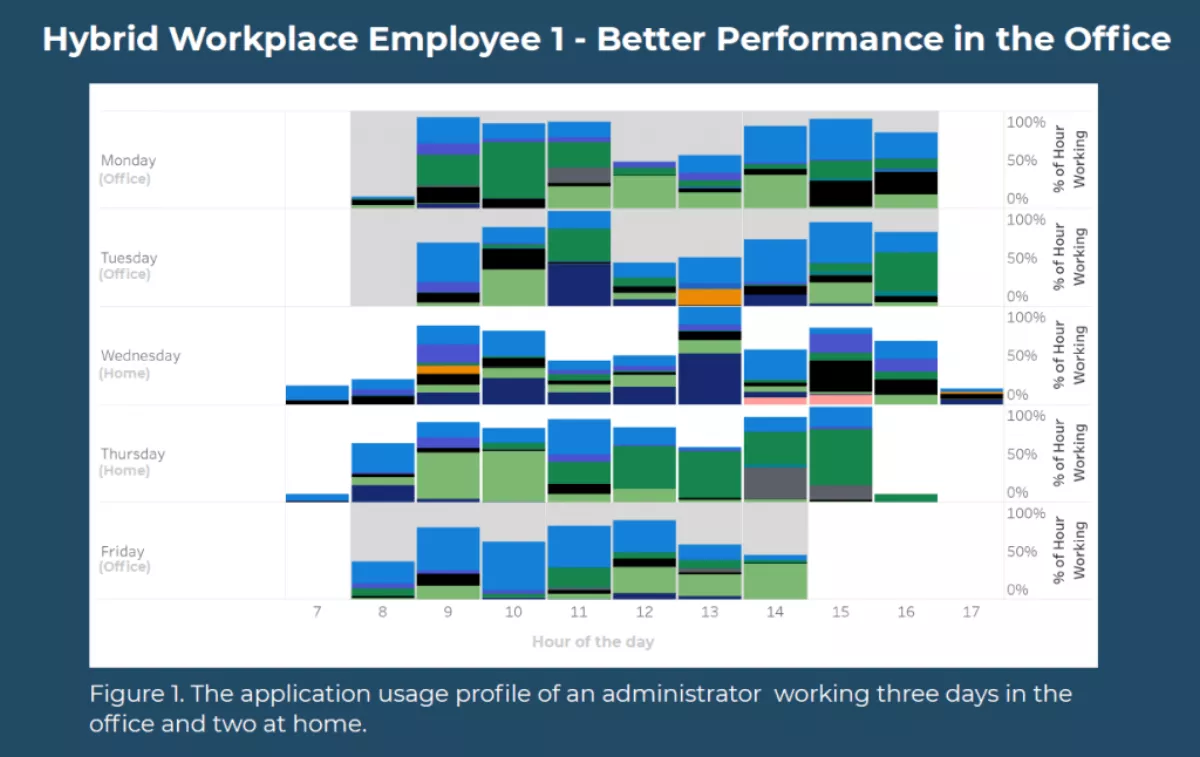 Here's an example of one of the profiles covered in the Global Tracker – an administrator who works in the office on Monday, Tuesday, and Thursday. This individual has a balanced usage of Outlook, Teams, Excel, SAP and heavily uses Remote Desktop Protocol (RDP) sessions.
Their SaaS applications generally work as well (or better) remotely, including Outlook, Teams, Excel and Word. The main red flag from a productivity perspective is the clear dip in application performance of SAP being used remotely versus in the office. If possible, this employee would likely be more productive if they used SAP more heavily on the days they are in the office.
Overall, this is a clear example of an employee who can be nearly as productive remotely as in the office, given the applications primarily used perform just as well at home as on-site. If their use of SAP changes for a given period, it may be worth it for the employee to go into the office to benefit from better performance.

The remote worker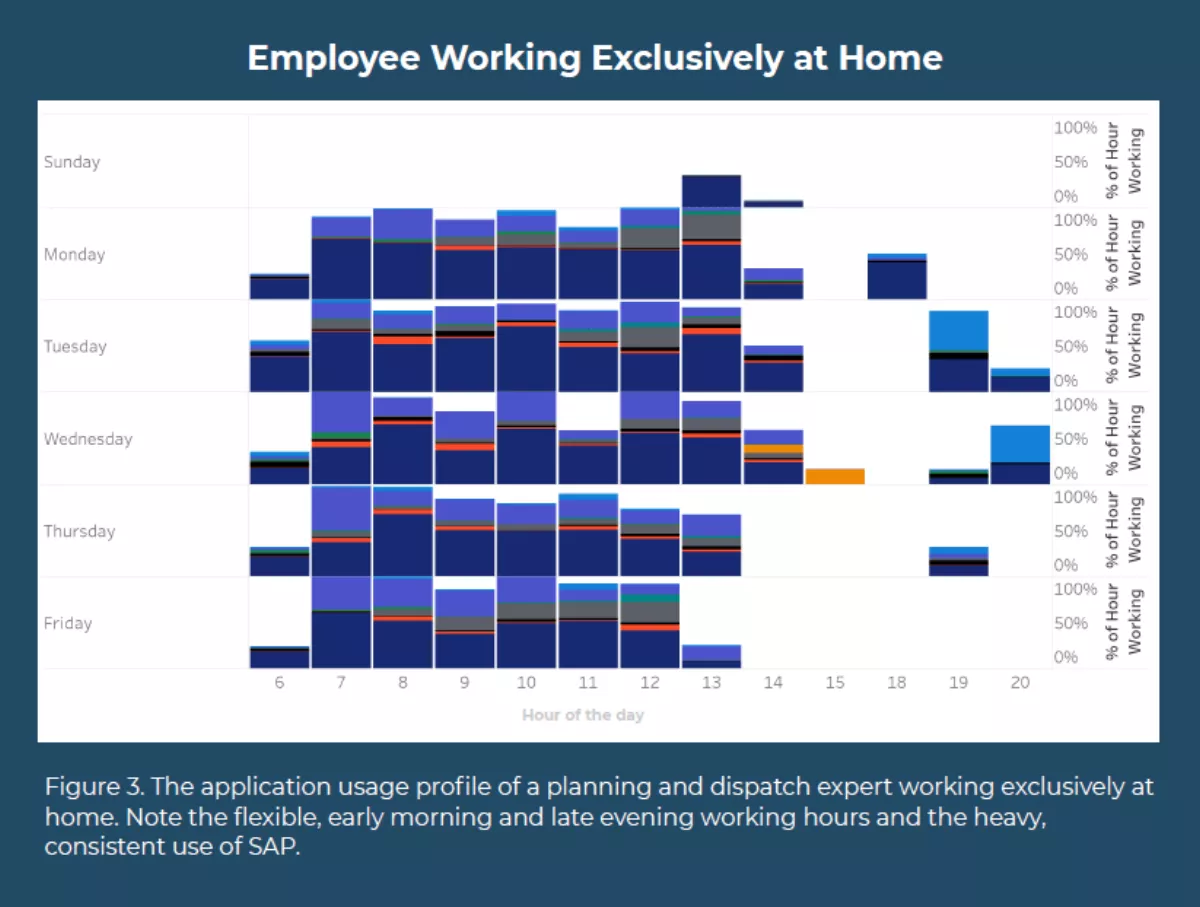 This employee takes advantage of flexible working hours, starting their days early and finishing late in the evening. They rely on an SAP graphical user interface for Windows for 20 hours a week and use it consistently for most of each day.
But the research found that the SAP application does not perform as well as an in-office counterpart's — poor home internet or other connectivity issues could explain the difference. In this case, employers should consider upgrading the employee's internet plan or consider moving them to a hybrid model.
This employee's consistent use of applications day-to-day is something leaders should consider for remote work policies. When an employee uses a consistent set of applications throughout each day of their workweek, and those applications perform the same remotely as they do on-site, then they should have more flexibility in choice.

Improving digital experience: recommendations for hybrid work productivity
As part of the productivity tracker report, Aternity recommends organisations take the following actions to improve productivity and deliver an optimal digital experience to employees:
Beware the 'flaw of averages' — It's best to individualise each employee's digital experience. Audit individual, team, and departmental experiences to support better decision-making regarding hybrid work policies and understand the impact on productivity and satisfaction.

Optimise your technology spend — Business leaders can better discern the best technology investments for their business by gaining visibility into application usage and performance. This means they can avoid spending needlessly on unnecessary applications licenses by tailoring efforts to 'fit-for-purpose' requirements for specific individuals.

Tailor your employee experience goals — Identify specific goals and benchmarks for performance for the organisation based on the most critical business applications. Measure the performance of these applications over time to identify opportunities for continuous service improvement.

How to improve digital experience with Aternity DXI
According to a recent Forrester report, prioritisation is one of the most common roadblocks that companies face when attempting to improve digital experience. The report says: "Most leaders don't do the necessary prework to ensure that they're investing in the right things to improve experience.
Aternity's Digital Experience Index (DXI) enables its customers to address this challenge head-on. DXI automatically identifies digital experience hot spots across the enterprise impacting employees and customers, then directs teams towards action and improvement.
The solution enables teams to tailor goals based on industry benchmarks, instantly associate performance gaps to lost productivity or revenue, and identify and remediate the worst-performing areas.

To learn more about Aternity and its solutions aimed at improving digital experience, click here.