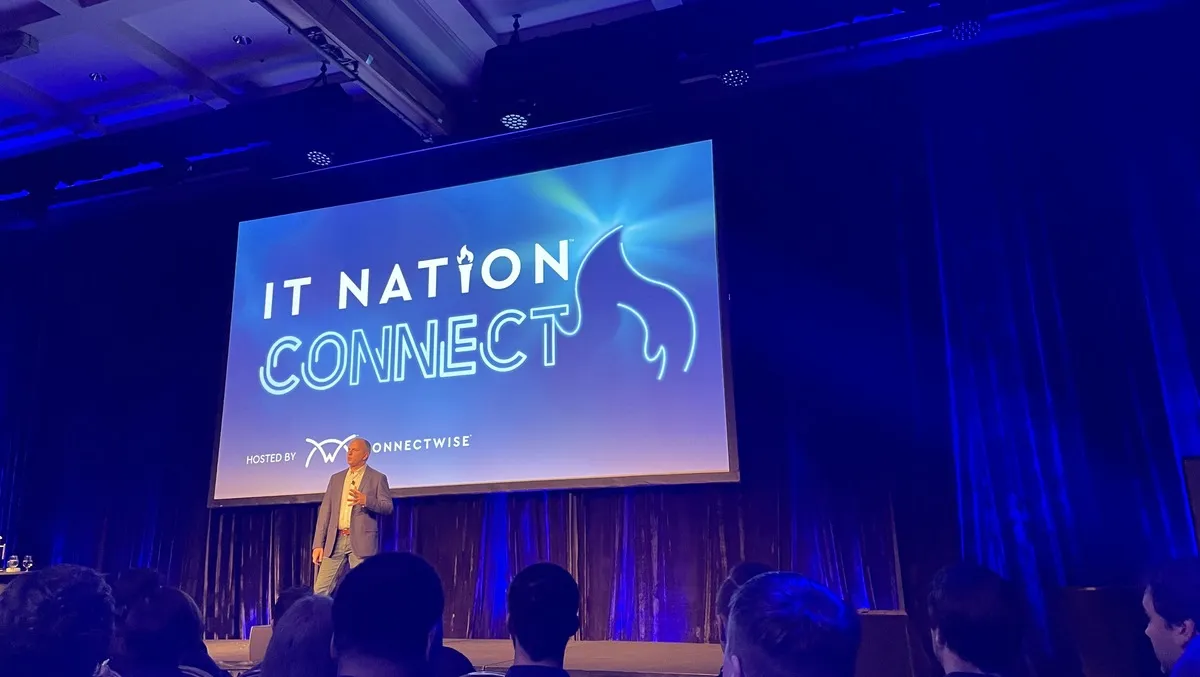 Everything you missed at ConnectWise's IT Nation APAC 2022
FYI, this story is more than a year old
We're bringing you the latest interviews, new announcements and updates live from ConnectWise's IT Nation APAC 2022 Event.
Opening keynote:
The event's opening keynote revealed an update on all aspects of the company's operations across APAC, ranging from partner programs and successes to managed security and service updates.
ConnectWise CCO Craig Fulton started the event by welcoming all attendees from various sectors across the technology industry, and highlighting that the APAC and ANZ markets are renowned for being early adopters of new innovations.
ConnectWise CEO Jason Magee was then introduced to the stage. Magee affirmed that ConnectWise was making it a goal to assist in transforming what is possible for SMBs globally, and thanked partners for being with them on the journey. He reported a 16% YOY growth in ANZ along with 1000+ active partners in the channel ecosystem.
Magee also touched on staffing shortages across the sector, and said this was particularly a problem in the cyber space with an estimated 1.4 million cyber vacancies across APAC. He reinforced that ConnectWise has the resources and expert technologies to help overcome many of the challenges enterprises face.
Vice President, Global Security Sales Jay Ryerse was next to take the stage, and explained how the company was actively engaging in cyber solutions to help mitigate common enterprise security pain points. He mentioned that the company has 160 SOC analysts as resources for partners, and that there is a large focus on their MSP+ framework.
The partners also had the opportunity to speak about their experience with ConnectWise. Zhaun Bana from MD Leap Consulting spoke about finding great business partners, and he believes this human element is what helps people strive to get the best out of their technology.
Executive interviews
TechDay also had the opportunity to talk with key members of the ConnectWise leadership team, where we discussed how ConnectWise is making its mark and assisting the channel across the APAC market:
CEO Jason Magee talks on company growth and momentum
ConnectWise CEO Jason Magee highlighted that ConnectWise was in a strong position for further growth in all areas moving forward.
He said that the growing partner ecosystem is a large part of the company's go to market strategy, and a focus on cybersecurity and the enhancement of their Asio platform will help continue momentum.
"We're there alongside with trained educated individuals, from marketing and sales, to help our partners grow," Magee said.
He also highlighted that trends around cyber are showing that businesses need to have a customer first approach.
"You want to continue to optimise and improve your tech efficiency for your customer, and this is a pretty big trend that people are trying to solve and continue to focus on.
And while partner success and new innovations were top of mind, there was also a significant change to business operations.
Magee said that ConnectWise is constantly working with partners as sectors across all verticals continue to navigate a hybrid environment, as well as discussing internally.
​​"We're keeping an open mind," he said.
"We chat with our colleagues quite a bit about it and find out what's important to them.
There were also changes to the business that aided success. Magee says new structures helped create better outcomes.
"Changes to our business unit structure has led to a lot more focus on accountability. This is helping us accelerate our growth at a high level, and we're striving to stay above 20% growth year on year.
CCO Craig Fulton highlights the importance of strong, human-focused channel partnerships
IT Nation lead Craig Fulton discussed why the IT Nation community was crucial to the success, and commented on the growth and future of the channel for the company.
"We've spent over 15 years building the community and bringing partners together, and we've always claimed it has been more than just about software," he said.
The importance of IT Nation and partner events was also stressed, with Fulton saying it gives the company the opportunity to create better solutions and open communication channels.
"It also enables us to go back and shape our future, our product roadmap, and the content we deliver and the way we communicate with our customers.
Fulton also said that besides large focuses like partner training and workshops, the company is also heavily investing in celebrating partner successes.
"We're launching our WISE Awards this year in November where we have seven different categories. We want to celebrate the successes our partners have had by awarding them," he added.
"At the end of the day, when someone works hard, and it gets recognised, and you're given a platform to tell your story, I think that's a big deal.
"And at these conferences, you know, the breakout sessions, a large majority of them are taught by partners. You know, a lot of the webinars, a lot of the content we have on our university are taught by partners. That's our way of celebrating [and saying] 'Hey, you're doing something amazing.'
Business Management EVP and GM Jake Varghese discusses ConnectWise's acquisition of Wise-Sync with Wise-Sync Founder and CEO Paul MacNeill
Vanghese said in a post-pandemic world, with electronic payments becoming more widespread globally and the continuing threat of the great resignation, Wise-Sync presented a very special opportunity.
"Everybody had two years to just evaluate their lives and say, 'What am I doing?', 'Am I doing what I'm supposed to be doing?'," Vanghese said.
"There's been a shift in how folks just think about themselves and their lives and where they want to spend their waking hours. So that has led to a great talent shortage. And it's been hard to hire. And it's been hard to retain talent. So now, if you were to just look at these two trends, (and there's so many more), and say, 'Okay, how does this operate within the context of business management?', what my team does is something very simple. I want to save you time and save you money. That's it.
"That's why Wise-Sync was so attractive. Because it helps you do all of that through integration, and through automation. So we want to take those key tenets of integration, automation and another thing, which is a delightful user experience. I think if you can operate at the intersection of those three things, you're set.
MacNeill discussed what the acquisition meant to him and the wider Wise-Sync team.
"15 years ago, I started a journey of becoming an IT service company working in an accounting firm, seeing technology evolve in accounting. For me, the journey there was about not being afraid of technology and how technology could help businesses," MacNeill said.
"Today, the evolution of that business, having grown my MSP business and selling that in 2016, gave me the capital to invest into Wise-Sync and Wise-Pay to accelerate it.
"For us, this is a proud moment, because not only is this an Australian company that's now again, on the world stage, but also at the greatest of opportunities for our partnership to be worldwide not to be centric on Australia at length.
"As a ConnectWise partner, I'm proud. And that's what the partnership means. Because this isn't about just selling the company. It's about rolling what we have partnered for. And that's exciting.
Growth EVP Chris Timms discusses ConnectWise's corporate strategy
Timms notes that ConnectWise's corporate strategy relies on three main pillars: Software, expert services, and community.
Acknowledging how crucial software is to ConnectWise, Timms says the company has been focused on expanding many of its software applications into more modern offerings, which resulted in the launch of the Asio platform early in 2021.
"The Asio platform is our ability to take disparate products and put them on one platform that's going to be easier for our partners to consume. There's also going to be one data lake under it," Timms said.
"Inherently what that means now is that we're going to have the ability to use structured data going forward in a more effective manner.
Referring to the way ConnectWise uses expert services to their full potential, Timms says the company wrote integrated services around its software applications because it learnt that partners like to consume the integrated services in different manners.
Speaking to the third pillar, Timms says, "Community is our intent to help drive knowledge training, you know, within, you know, the the MSP community, we do a lot of things, like the IT Nation Connect conference out here, which is for us, a lot about education for our partners.
Timms also notes that COVID-19 has had an undeniable impact on ConnectWise's corporate strategy.
"I think that the pandemic accelerated a lot of the trends for managed service providers in how people had to go from home and the increasing working from home and hybrid nature is going to put a larger emphasis on MSPs to be able to manage those small businesses that have gone hybrid going forward.
Closing keynote:
Service Leadership Founder and Former Owner Paul Dippell gave the closing keynote, with a driving message: "How to produce a winning outcome for [customers, staff and owners].
Dippell explored valuable topics such as Australia's MSP Cloud resale revenue growth, noting that it was impressive to see the volume of created tickets increase during the pandemic across Australian MSPs.
"You guys saved people's businesses. You kept them running, you kept them safe," Dippell said, before encouraging the crowd to give themselves a round of applause.
Dippell's focus was also on how to produce work at a best-in-class level, examining some of the differences between those performing at the highest level, and those at the lowest.
He stressed that providing value is crucial, and understanding that spending more money to offer a higher value product is the best way to go in the long run to foster successful business outcomes.
"You cannot compete on price in this business. You have to compete on value and charge for it," Dippell added.
Dippell imparted many thought-provoking insights, acknowledging in particular the importance of implementing a value creation strategy ahead of a breakout session on the subject later in the day.
He shared that it can be hugely beneficial to invest in the value that a strategy like this can give customers and employees and how it can foster success for customers, teams and owners, resulting in TSPs working at a top performance level.
This was Dippell's first and final appearance in Australia, as ConnectWise chief customer officer Craig Fulton explained that Dippell is now retiring and this keynote would be his last presentation.
ConnectWise is taking over the running of Service Leadership and when Dippell thanked the audience, he said he felt the company's legacy was in safe hands with ConnectWise.