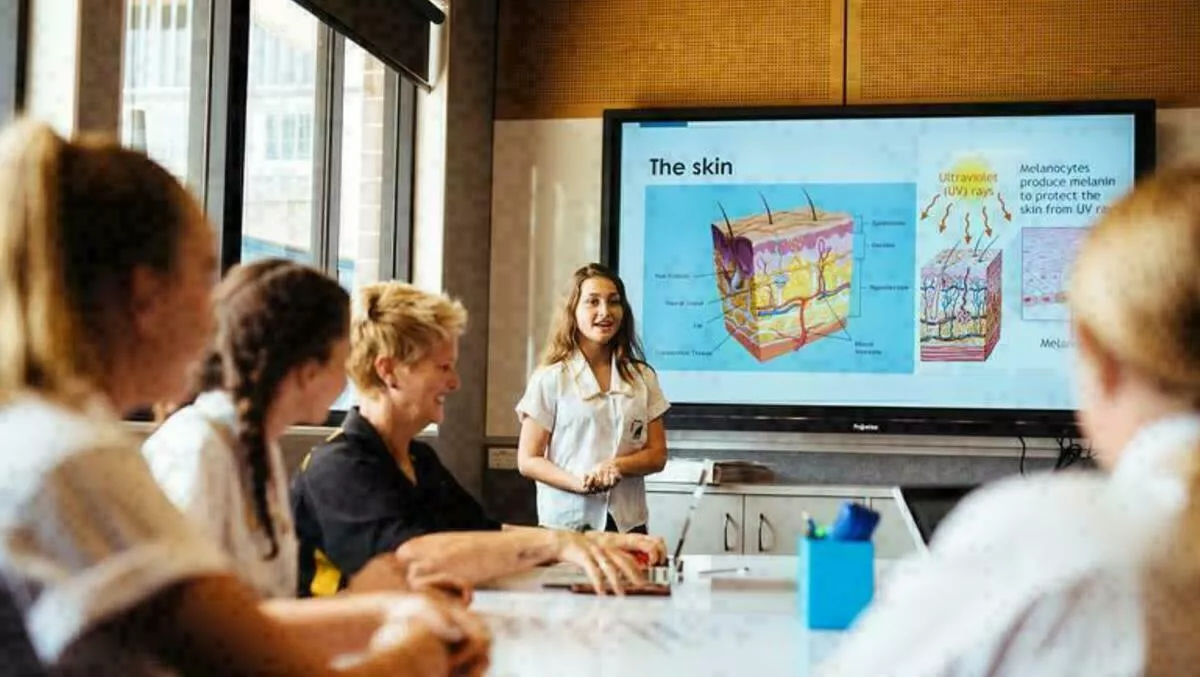 Gearing schools up to educate the workforce of the future
Fri, 20th Dec 2019
FYI, this story is more than a year old
A recent report by PwC estimated the potential economic benefits of automation to be an additional $15 trillion to GDP globally by 2030.
However, it also indicated a significant impact on the workforce with 30% of jobs potentially at risk by the mid-2030s.
While routine tasks are expected to be heavily automated in the future, the domain of people will be the ability to think creatively, work collaboratively across multiple disciplines and apply critical reasoning to get the best out of the technologies that enable their industry.
According to the Foundation for Young Australians (FYA), 90% of future jobs will involve digital literacy and 70% of young people are currently learning skills that will be redundant by 2030.
So, to have options and opportunities, students need to leave school with a high degree of digital literacy, as well as transferable skills and the ability to think critically, be creative and work collaboratively.
With this in mind, a NSW school went through a process of reinvention with incredible results.
From disrepair and disadvantage to an innovative learning hub
Six years ago, Hunter Sports High School, on the NSW Central Coast, faced high rates of absenteeism, suspension and negative referrals and a physical environment that was in disrepair.
The sports specialism also represented a challenge to teaching and learning with teachers and students away from school for as much as 60% of school hours.
In 2016, Federal Government funding allowed a new school to be built.
When developing a strategy for the new school, principal Rachel Byrne not only recognised the need for a new approach to learning but also an environment that would leverage technology and prepare today's students for tomorrow's workforce.
Engaging students with technology that enables and empowers them
Exposure to a broad range of technologies is essential to prepare students for the future workplace, says Byrne.
Technology has also been key to solving the challenge of teachers and students being away due to sporting commitments as students have devices that enable them to access learning platforms and lessons from outside of the classroom so these aren't being missed.
The school introduced a student-centred model with a focus on teacher facilitation. Students are encouraged to direct their own learning and they develop soft skills for critical thinking, project collaboration and problem-solving.
"The first comment visitors to our school make when taking a tour is how engaged the students and teachers are," says Byrne.
The technologies have been integrated into the school to enable a seamless experience.
Robust WiFi and the ability for students to easily connect their devices to the interactive touchscreens in the classroom to share and present their ideas and projects has accelerated engagement.
Developing fun learning spaces that are flexible and interactive
The school has a University feel, where furniture can be rearranged to suit the activity at hand and there are breakout areas.
All the learning spaces are technology-enabled.
There are charging points for devices in and out of the classroom so the learning can continue outside of the room which is ideal for project and activity based working as well as quiet zones for individual work.
Hunter Sports High School has 80 touchscreens mounted on walls in every classroom, and in the Principal's office with a few on moveable trolleys that can be wheeled to different spaces.
Teachers use the touchscreens constantly to deliver interactive lessons through the use of multi-media as well as real-time feedback on surveys and other software.
The school has integrated the touchscreens into their strength and conditioning sports program.
Using the mobile touchscreen in their new gymnasium the coach can pull-up software with videos - for example, the correct form for a bench-press or squat - and students can follow at their own pace through linked devices.
Through the school's extensive Wi-Fi network and ability to push content on the screen from any device, the students are able to easily interact with content on the touchscreens from their own laptops and devices.
The addition of an in-built PC module to the touchscreen has made a big difference to teacher ease of use with no need to plug in a laptop.
It also allows the teacher to move freely about the room, collaborating with the students. Ms Byrne has recently used the touchscreens as part of an attendance campaign, pushing positive messages onto the screens.
Professional development for teachers is essential
With such a large commitment to transforming into a technology-centric school, one of the main challenges is in the academic staff keeping pace with the change therefore it was important to make a significant investment in professional development and training.
Positive results and forward momentum
Byrne believes technology has a big part to play in the positive results she is seeing at the school. "Suspensions are down 60 percent and our negative referrals are down dramatically too. We have seen a 300 percent increase in applications for enrolment and, for the first time, there is a waiting list for the sports programs.
Byrne offers the following advice to schools looking at transformation and the integration of technologies into their learning environments.
To have a technology-based school, teacher professional development must be a priority.
Invest in technologies that will address areas for improvements.
Get one thing mastered before you move onto the next, don't roll out too much at once.
Look beyond aesthetics and ensure you consider support plans and teaching capacity.
The next evolution for Hunter Sports High School centres on collaboration.
With teachers and students embracing the technologies already in place, she can see more collaborative pathways for extending programs in movie making, coding and robotics and 3D printing.
"We can really engage students in their passions and allow them to take accountability for their future, facilitated by the teachers and supported by programs, technology and a school vision centred on their success".
Byrne says none of this could have happened without Federal Government investment.
"Education matters. We are living proof of the value of government investment into facilities and a new school that is underpinned by a future-focused learning strategy. We've opened pathways and opportunities for our students' future."
Ninety per cent of future jobs will depend on digital literacy
New technologies, automation, machine learning and globalisation are hot topics currently, and equally hot is the topic of workers who are fearful that, without further education or retraining, the former will render them obsolete.
In order to avoid this fearfulness seeping down to the next generation of workers, it is imperative that they leave school feeling well prepared.
Schools that use innovative audio-visual solutions to deliver engaging, interactive and rich learning experiences can ensure today's students possess the digital literacy that will be fundamental in tomorrow's workplace.