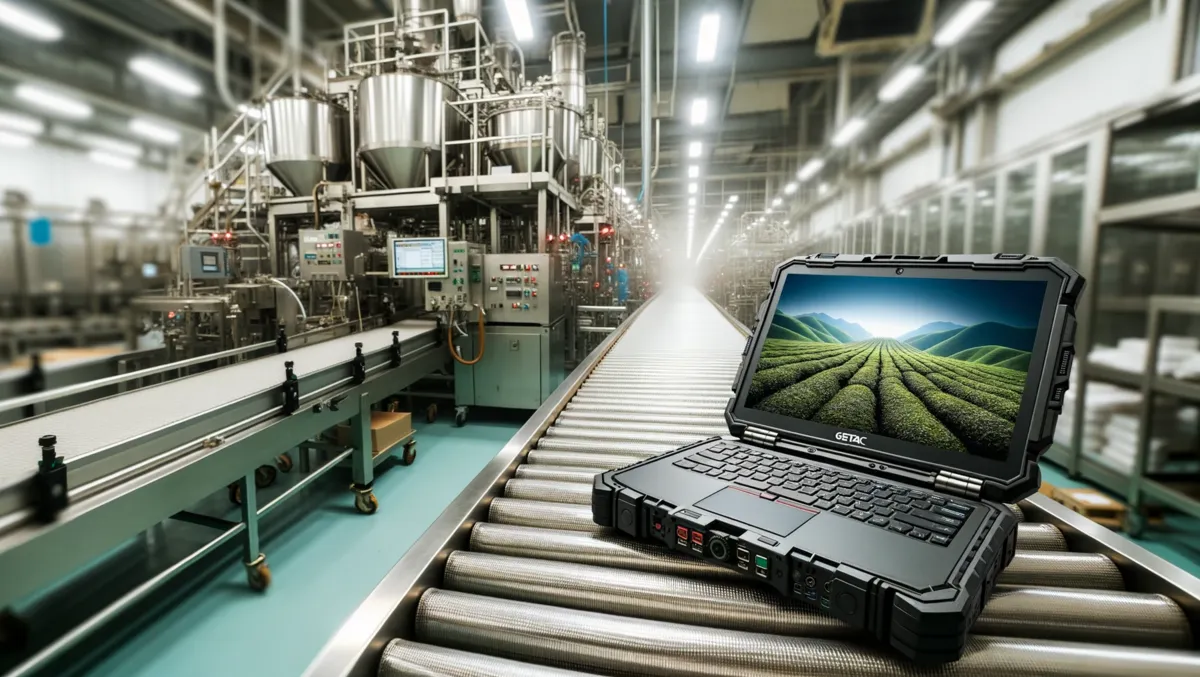 Getac and Teekanne celebrate 14 years of partnership
Getac celebrates 14 years of partnership with The Teekanne Group, which has used Getac laptops for production processes since 2009.
As a manufacturer of rugged computing solutions, Getac designs and produces robust notebooks and tablets for a wide range of industries and applications. Within industrial manufacturing, the company has been providing some of the world's biggest brands with innovative and customer-centric solutions for years.
The Teekanne Group, founded in 1882, is a globally active, traditional family company headquartered in Düsseldorf, producing tea bags since 1954. In 2014, one of Europe's most modern tea production halls was put into operation in Düsseldorf, where up to 3.2 billion tea bags per year are produced, packed and sold worldwide.
To ensure smooth production processes in Düsseldorf, Teekanne GmbH & Co. KG has relied on Getac solutions for over 14 years. The laptops purchased in 2009 are still in daily use today.
The extensive range of interfaces and high compatibility for controlling older software and machines were just as significant in the choice of the S400 from Getac as its robustness and durability for all uses in production, maintenance, repair, and logistics.
The Getac S400, as well as the successor model S410, have proven themselves at Teekanne. The machines and systems with different serial interfaces can be controlled and connected securely, which ensures smooth processes without unnecessarily expensive machine stops. The Getac laptops support predictive maintenance, machine servicing, troubleshooting and programming. Maintenance can be planned rationally, thus reducing costs.
Production capacities, including those of the older machines, continue to be fully utilised. Strong performance, user-friendly display that is easy to read, durability and the high reliability of Getac rugged laptops have also paid off over the years. The design, solid flip-up mechanism and user-friendly display of the S400 / S410 laptops guarantee stable operations at Teekanne, even over a decade: in environments with ubiquitous tea dust, after drops, shocks or vibration.
Due to the high performance and reliability of Getac laptops, Teekanne benefits from smooth operations and full utilisation of its valuable production capacity. This reduces costs and ensures customer satisfaction.
Mehmet Agar, Team Leader at Teekanne, says: "We know from experience that consumer laptops don't last long; quality has its price, and after 14 years, we can see that the investment in the robust Getac laptop has more than paid off."
"The devices still look like new today, and introducing the even lighter S410 further supports us in optimising processes. Our older special systems can be controlled perfectly with it and continue to be integrated into the production processes without restrictions."
Eric Yeh, Managing Director at Getac, explains: "The long-standing use of Getac laptops at Teekanne is an impressive example of the durability, reliability and high robustness of our products."
"With the variety of interfaces, even the older but particularly production-relevant Teekanne special plants can continue to operate without any problems; that's what I call real sustainability!"