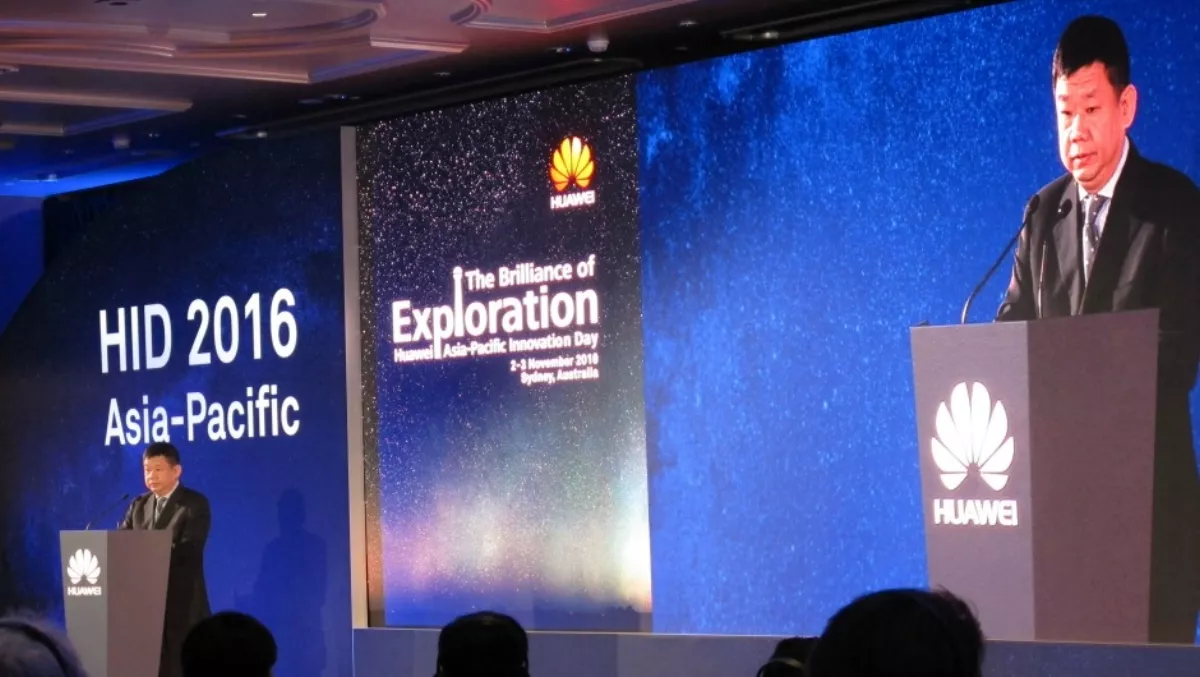 Huawei's Innovation Day 2016 triumphs 'brilliance of exploration'
FYI, this story is more than a year old
Huawei's Asia Pacific Innovation Day has kicked off in Sydney this morning, with Asia-Pacific president Li Jinge opening the 'Brilliance of Exploration' event in front of more than 150 industry experts, policymakers, scientists, scholars and media.
Chris Riddell, the event's MC, said "Today is about inspiring a new generation of thinking".
Jinge also gave a welcoming speech, showcasing innovation and pointing out Australia's prowess in this area.
"This is a country with exploration deep in its bones. The growth and success of Huawei comes from determination. For future operations in ICT, government will motivate, industry will provide teaching," he says.
"Huawei's determination in this area has never changed. Huawei promotes extensive collaboration between industry, academic, government and research, which is the basis for creating a healthy and sustainable ICT ecosystem. Industry, academia, government and research must explore innovation together to discover new pathways into the future," he says.
"Today our explorations have taken us into uncharted exploration technology. Human beings are at a turning point. Without the right assumptions, we will not find the right direction. Without the right direction, we will not have the right approach. And without the right approach, we will not have the right strategy," Jinge says.
Greg Hunt, Australian Minister for Industry, Innovation and Science, stressed the importance of technological innovation and how it is 'vital' for society, driving 60% of national productivity.
"ICT is the backbone, alone with science, of the whole innovation space. For us as a government, we are involved in innovation and driving this forward as a means of helping the economy, helping individuals, and improving quality of life. Under the Innovation and Science agenda, we bring young people into innovation and science through a program worth more than $100 million," Hunt says.
He also spoke about how the government is investing money to get women into ICT, amongst its other initiatives including quantum computing and next year's new wave of innovation and science.
"In 2018, there's a third wave of business, which is about national business simplification. We're already starting that but we aim to deliver that in 2018."
Huawei also mentioned that its six OpenLabs for enterprise business - Huawei's strategy for creating an ICT ecosystem. Huawei also works with more than 400 solution partners worldwide.
Huawei has also announced the latest progress in its Huawei Innovation Research Programme (HIRP), an initiative to partner with leading global universities.
The program has to date supported more than 1200 innovation projects around the world, including projects from Australia, Japan, Singapore and South Korea.
Other speakers at the event include Huawei Australia director of IT and data center director Neil Evans, Fujitsu Australia CTO Peter Lawther, Vodafone Australia chief strategy officer Dan Lloyd, ReGen CEO Bridgit Hawkins, Smart Cities Council Australa New Zealand executive director Adam Beck.
Related stories
Top stories