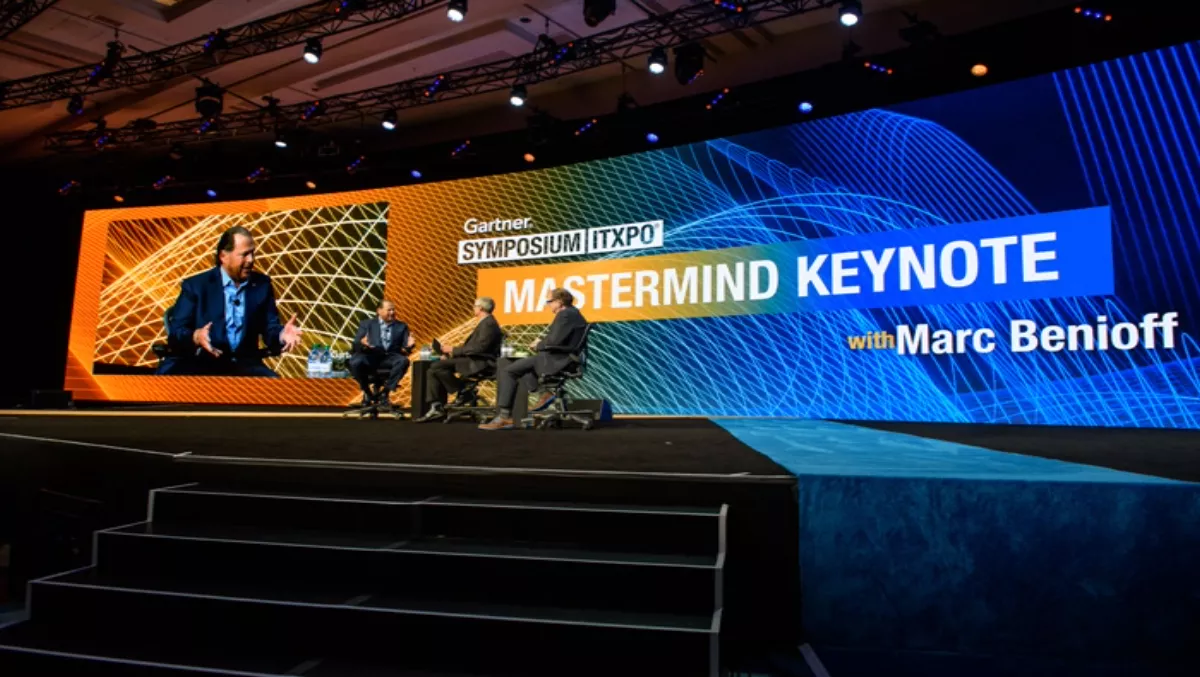 Salesforce CEO on the power of disruption and mindfulness in leaders
Fri, 20th Oct 2017
FYI, this story is more than a year old
Marc Benioff, Salesforce CEO, likes to start at the beginning when talking about the future of technology and innovation.
By the beginning, he means both the beginning of Salesforce.com, the subscription-based software as a service (SaaS) business he started to disrupt the enterprise software industry and, most importantly, the beginner's mind.
On March 8, 1999, in a Montgomery Street apartment in the shadow of San Francisco's Coit Tower, Benioff and his co-founders started what would become the fastest growing enterprise software company of all time.
In that fog-shrouded apartment, the two founders architected principles that still serve as a blueprint for the company's success: Build a new technology model around cloud computing, launch a new business model based on subscriptions and champion a new philanthropic model by donating 1% of the company's time and profit to non-profits.
Nearly 20 years later Salesforce is synonymous with innovation and disruption across all three of those principles. In a wide-ranging discussion with Michael Maoz, VP and distinguished analyst, and Yefim Natis, VP and Gartner fellow, during Gartner Symposium/ITxpo 2017 in Orlando, Florida, the reality of this milestone was striking.
Doesn't celebrating nearly 20 years in the technology sector and becoming the established leader in its space make Salesforce an incumbent ripe for disruption?
Are the startup disruptors amassing on the horizon in a bid to disrupt the ultimate disrupter?
Benioff didn't seem concerned.
"That's the whole point of technology," Benioff says. We need to constantly be open to new ideas and approaches, such as artificial intelligence (AI), and be willing to challenge assumptions. "AI is a big deal," he says.
The world is changing and changing fast.
Benioff explained the beginner's mind as a mindfulness practice of focusing on the here and the now to view our inner and outer world with fresh, unencumbered eyes.
"If you want to be a great innovator you have to cultivate a beginner's mind," says Benioff.
"Mindfulness is an important part of innovation," says Benioff. "Leaders need to listen (and receive) more.
Platforms and ecosystems
Natis questioned Benioff about concerns expressed by end users that they are "locked in" to the Salesforce platform.
Benioff countered that most people are locked into iOS or Android operating systems on their cell phones and it is more normal to want to stick with one platform than to move to a new one.
"You have to choose a platform because they don't change. Pick one and be prepared to stick with it," he says. "It's the nature of our industry. It's not about one CEO.
What about delivering Salesforce through partner cloud computing platforms such as Amazon Web Services (AWS)?
Benioff noted that when Salesforce explored data center options in Canada it decided to partner with AWS versus using its own.
"It speaks to the quality for Salesforce to run our platform anywhere," he notes.
Prepare for the autonomous future
Benioff gave a nod to the mentors who played a pivotal role in his career. "There would be no Salesforce without Steve Jobs," he says about the Apple co-founder.
General Colin Powell also helped inspire his decision to donate 1% of his company's resources and revenue to non-profits.
Benioff added that as we move into the age of the customer, the age of intelligence and the age of equality, entrepreneurs and business leaders need clarity of vision plus the ability to communicate that vision and inspire others to follow.
And that vision should be about how technology can make the world a better place, not just for shareholders but also for stakeholders including the broader community and public education system.
"If our kids aren't ready for this new autonomous future with AI, we will not have the level of equality that we want to have," Benioff says. "We must bring our kids along on this incredible journey.
This article originally appeared on Smarter with Gartner here.