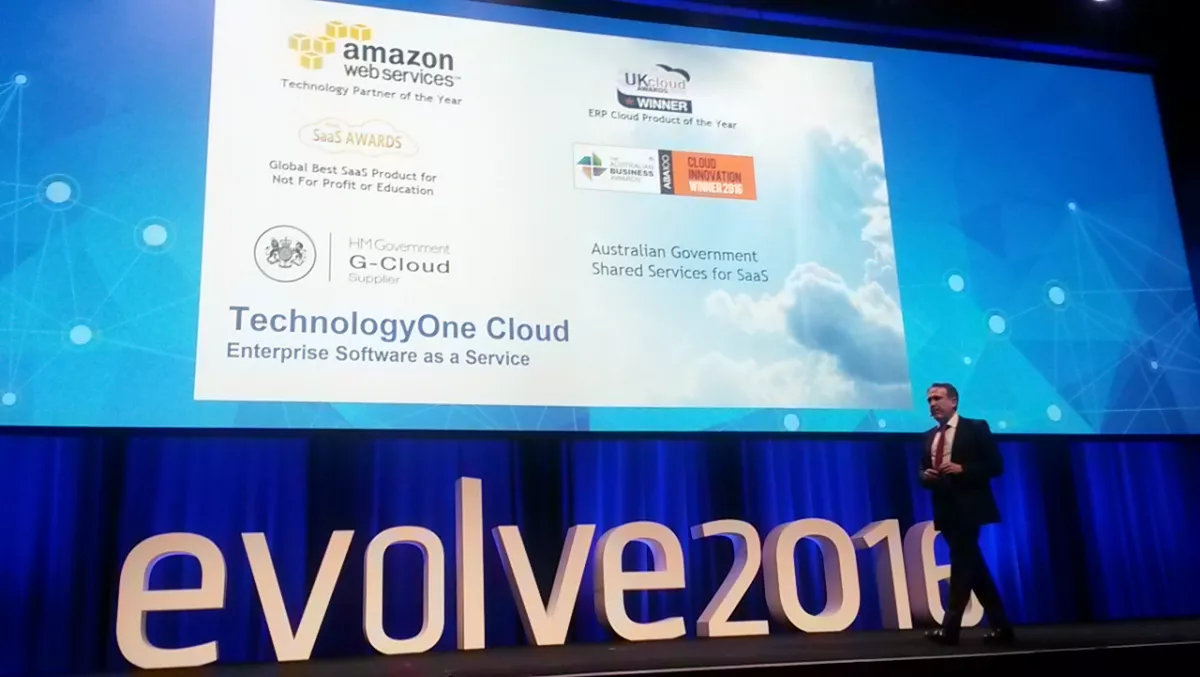 TechnologyOne's Evolve 2016 conference brings the silver lining to enterprise cloud
FYI, this story is more than a year old
TechnologyOne founder & executive chairman Adrian Di Marco addressed a crowd of 2200 customers, partners and IT executives at the Evolve conference at the Brisbane Convention and Exhibition Centre today, stressing the need that the digital future is here, and mass production Software-as-a-Service (SaaS) is at the heart of it.
"People are talking about the next stage of industrial revolution... This stage that we're entering is called the true digital revolution. It's inhabited by the digital natives," he says.
Echoing Cisco's prediction that 40% of organisations won't be around in a meaningful way in 10 years' time, Di Marco says that for IT companies, the rate will be much higher.
This concept forms the basis of TechnologyOne's market strategy for its enterprise cloud services and Ci Anywhere platform, which is one of the only vendors providing pure SaaS cloud software.
"There are only a few companies globally offering true enterprise Software as a Service, which has changed the competitor landscape for us," Di Marco says.
"Software-as-a-Service is like a black box. You shouldn't need to know what's in there," he continues. The TechnologyOne Cloud is growing 140% year in year out, Di Marco said. It also provides services for more than 150 organisations across Australia, New Zealand and Asia Pacific, including various Australian government organisations, the University of Melbourne, La Trobe University and the Wellington City Council in New Zealand.
The company concentrates on eight key markets: government, local government, financial services, education, health and community services, asset intensive industries, project intensive industries and corporates.
The company takes a mass production approach to its SaaS, brushing aside traditional competitors such as Oracle and SAP, and instead building a platform that adopts cloud-first and mobile-first strategy that Di Marco says fits "Any device, anywhere, anytime".
While Di Marco stressed that customers using on-premise software will not be forgotten, the spotlight is truly on cloud and mobile - essentially 'cloudwashing' technology - transforming something never originally built for cloud and making it work with cloud. "We're deeply committed to on-premise. There's no need to rush to embrace the digital future - you do it at your own pace. But cloud is the future. It's one of the forces that's driving the digital revolution," he says.
Di Marco believes that in the digital future, who customers partner with is going to be crucial to their success. Customers choosing multi-tenanted approaches from other companies should be aware that the data is also multi-tenanted, posing security risks for everyone.
"We believe the future is in providing multi-tenanted software, in a single-tenant database," Di Marco says, which ensures databases stay secure.
Smart mobile device applications were another big focus at the TechnologyOne conference, with Di Marco commenting that there are now more mobile devices than people on the earth. The company has moved on this trend, by providing 100% of its enterprise software on mobile devices.
Live demonstrations showed how the software adapts to devices including tablets, laptops, iPhones right down to the pint-sized format that works with the Apple Watch - a talking point amongst attendees. The company even plans to develop augmented reality and in-vehicle applications.
"The reason we have to do this is very simple. We have no idea in the future how you're going to work. When, where, how, what. We don't know those things," Di Marco says.
"TechnologyOne is the only enterprise vendor guaranteeing to deliver 100 per cent of our enterprise software on smart mobile devices - with no carve outs and no exceptions. This provides customers with access to the full functionality of our software on any device, anywhere, at any time."
"No other enterprise vendor that is committing to do that. We don't know how you approach the digital future without committing to do that," he continues.
The company's CI Anywhere live demonstration also showed the breadth and depth of the platform can be applied to everything from enterprise council systems, university systems, company financials and more. It is the company's cloud first strategy.
"Our largest wins in 2016 have all been SaaS deals. This alone speaks volumes towards this market shift. We're now providing businesses with economies of scale and a level of simplicity that has never before been possible."
Related stories
Top stories