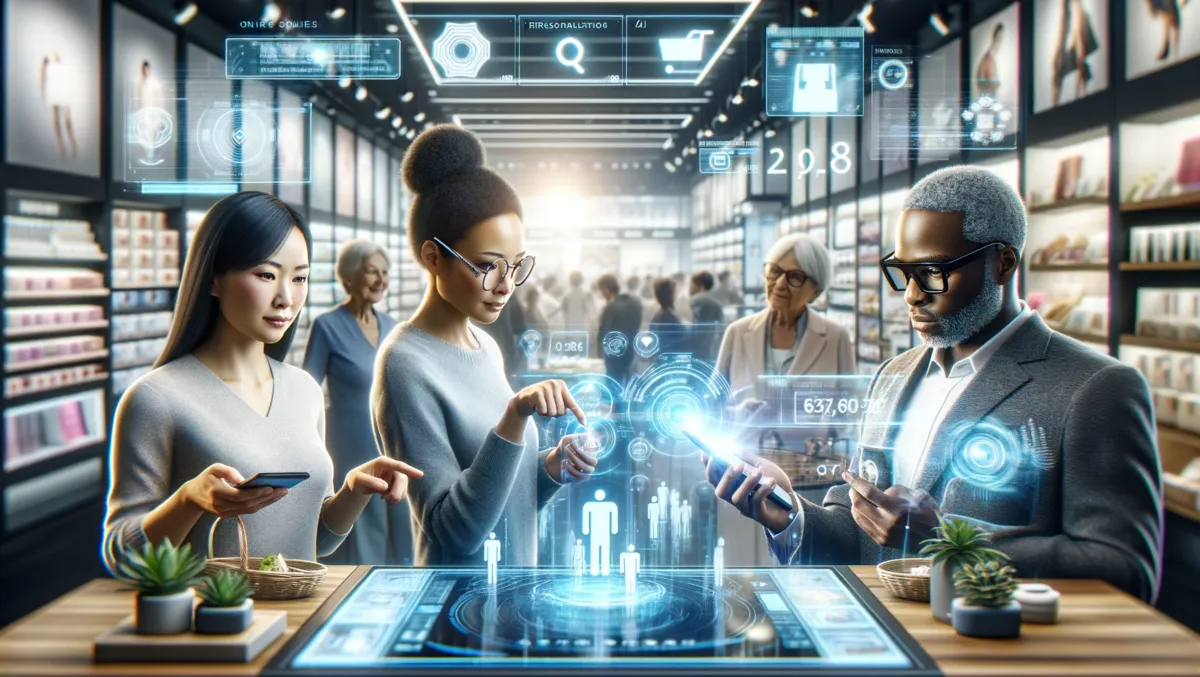 The future of omnichannel: Your success blueprint in a digital world
Thu, 16th Nov 2023
In the dynamic world of retail, success remains a moving target. With consumer purchasing power limited and retail sales growth expected to slow, 'Loyalty Royalty' Tim Mason's newest book couldn't have launched at a better time. Tim is the former Tesco CMO who founded Clubcard, and his co-author is Sarah Jarvis, Communications and Propositions Director at Eagle Eye. Omnichannel Retail: How to Build Winning Stores in a Digital World serves as the guide retailers need to harness the growth opportunity that being digitally enabled and data-driven brings.
Recently, Mason sat down with Ryan De Boer, CFO at Loyalty and Reward Co, to reveal critical insights from Omnichannel Retail. In an exclusive fireside chat, he unpacked his philosophy of "will over skill", the magic of the human element in an A.I. world, the power of marketing in the moment and more. Grab a cuppa and dive in. It's all laid out below.
Tell us a little bit about your background and experience in marketing
I started as a Unilever management trainee, doing product management. Unfortunately, in the categories that I looked after for Unilever, a company called Tesco went private labelling, and my market share went down by about a third in one reporting period. That wasn't much fun.
So I decided to try and join Tesco. I managed to become the second product manager there, working with a marketing manager called Terry Leehee. Over the next 30 years, we basically went through the organisation like that, doing marketing buying operations. He became marketing director and then CEO.
And I sort of followed him through and became CMO before going on to become CEO of Tesco's U.S. startup, which was a business called Fresh and Easy. I finished my career with Tesco after 30 years, of which nearly 20 of them were on the board, in a period of time when Tesco did a pretty good job.
It's been almost five years since the first edition of your book launched. Why have you chosen to write the second edition now?
I'm not an author, and I never intended to be one. However, my job with Eagle Eye benefits from telling the story and sharing my beliefs about why personalised marketing is the best approach. There's a tremendous opportunity for retailers, particularly grocers and drugstores, to use modern technology to improve their marketing.
We realized that a lot had changed since the first book was published. COVID, for one, rapidly accelerated digital adoption. However, I was still not that keen. Writing a book is hard work, and I already had plenty to do.
But then, a client meeting in Singapore changed my mind. There was a lady who remained quiet throughout the entire meeting. Naturally, I was thinking that it must not have been going very well. However, in the end, she thanked me for coming and told me that Omnichannel Retail was the best business present she'd ever been given and that it never left her side.
That was the tipping point. I recruited Sarah Jarvis as my co-author, and together, we got to work. And I must admit, it reads pretty well.
What are some of the challenges retailers are facing today?
A lot has changed. Five years is quite a long time in retail in the best of times. And I think these have been far from normal times. Starting with COVID lockdowns and people being forced to use e-commerce channels. There's been a massive uptake in all sorts of digital tools. Q.R. codes, for example, used to just be some nonsense bar code. Now, they are something that everyone understands, their real utility.
Even more, we now have a war a big energy crisis, and consumers are under the cosh. There's a lot going on. And, of course, when the consumers feel it, the retailers feel it. There are a lot of factors that are not conducive to fair-weather trading.
In difficult times, people promote more to hang onto trade. This is something they've always done to stay above the line. Advertising is probably cut, but promotional spending continues because you can't afford to let the fixed costs go if you can't keep revenues up.
People are acknowledging the move to digital. Who would have ever thought that Lidl would have an app discount program and continuity promotions? Woolworths in Australia is relaunching Everyday Rewards, with a much heavier emphasis on personalisation and built-in subscriptions.
There's a lot going on. It's one of those things where you've got to be in it to win it. Retailers are either doing it and trying to do it better, or they're acknowledging that it's time to start doing it.
What do you see as some of the real opportunities for omnichannel retailers to exploit?
We exist in a digital world. And we have to position our stores in that context – everything a retailer can do on its eCommerce platform must be done in its physical platform as well, whether that's pricing, ranging or highlighting.
The first priority is to get the physical space connected and working in the digital world. Most importantly, you must get your audience connected. Most of them shop with their phones in their purses or pockets. Well, you have to turn shopping into a 'phone in the hand' experience. The value you can create by doing this is enormous, and it should be a strategic priority for all retailers. They need to condition shoppers to have their phones in hand because then good, personalised things can happen.
There's also a big opportunity for retailers to build digital relationships. They can significantly change their relationship with consumers, which, in turn, may lead them to be able to sell more and different products.
When you scan the market globally, who is doing omnichannel retail right?
Target, in the U.S., has made great strides since 2017. The interesting thing is that they've put the store at the centre of the digital experience. They've put an awful lot of effort into click-and-collect returns to store. People do a lot of online shopping, and Target is cutting the store into it. Wherever it makes sense and improves the service for the customer. They've done a pretty good job.
Woolworths in Australia is also doing great, as is Loblaw in Canada. Both of these retailers are clients of ours. They're progressively increasing the personalisation of their promotions so they feel more relevant and remain valuable.
However, it's important to point out that while there are different retailers doing well in different places, there's still an awful lot to be done.
What role does Eagle Eye play in helping retailers build winning stores in a digital world?
The important word there is 'help'. At Eagle Eye, we do help. We're an enabler. But it's down to the organisation itself. One point that we make quite strongly in the book is will versus skill.
If you have the will, determination, passion and vision, then you're off to a good start towards building a winning store. Beyond that, however, you must understand what a good digital structure looks like.
For a good digital structure, you need lots of data. And you need good data and analytics. Secondly, once you have all of the data, you need to work out what the next best message, offer and thing to do for each individual customer is. And then, you need the transaction capability to do it. Finally, you must have a nice UX, environment and scheme –something that looks and feels good where people feel that it's something of value, something worth trying to earn.
Eagle Eye helps with that piece in the middle – the transaction piece. You need to understand who your customers are and what they're doing so you can predict a new product based on their likes.
What's the opportunity retailers have with A.I.?
Retailers need this very powerful transaction layer to enable them to do personalisation. For a huge grocer with 20 million customers and thousands of stores with 50,000 skews to do a full-blown, personalised promotion program, they will need to be doing something like 10 billion promotions a year by the time we take personalisation into it. And that's a lot.
So you need a very powerful engine, which is what the Eagle Eye Air platform is, in order to run that. Jarvis coined the phrase that A.I. needs Air, which it does. And we've had some very interesting conversations with Google recently because they're very keen to develop and sell A.I.-based services. They recognise the very important role that the transaction platform Air can have in doing that.
What are the challenges and opportunities for marketers as it relates to A.I.?
Marketers have opportunities and threats. If you're already good at data analytics, then A.I. is a bit of a threat because there's a new kid on the block. A.I. is going to do it better. It may not do better straight away, but it will do better. And it's going to do it faster and cheaper.
If you're not good at it or you're not really in the space, then there is an opportunity to jump in the fast lane and do some overtaking because you can forget all that legacy stuff. You can forget having expensive analysts all over the place, and you can jump straight into the A.I. route.
That's a big opportunity. It's incredible the speed at which, in effect, ChatGPT is letting the dogs out has changed the world. It's actually very good for omnichannel retailers.
What's new in the second edition of Omnichannel Retail?
This edition features new chapters on the fundamentals of loyalty, the power of personalisation, marketing in the moment and more. It also introduces a number of new case studies from omnichannel leaders worldwide.
There's a real opportunity with marketing at the moment in this digitally-enabled world to contextualise marketing. I can see it being analogous to 'near-me' searching, which transformed Google's business.
There's also a bit more on the culture of loyalty. This 'will not skill' point. As everything has become more tech-based and SaaS-based – the software vendors that are involved in the marketing stack are many and various, which is sort of mind-boggling – you just need to remember why you're doing this. And remember what it takes to run a really good retail business that cares about its customers. How do you do that?
First of all, you have to deliver it through your people and get your teams to believe in it. Once they believe in it, then you need to buy the systems that can deliver that vision. But it all comes back to the people that work for you.
Customer loyalty is absolutely the most important thing. But it is a byproduct of the people that work for you. So that's where you must focus your attention. Trust them to deliver and create value for customers.
Tune into the full conversation here.