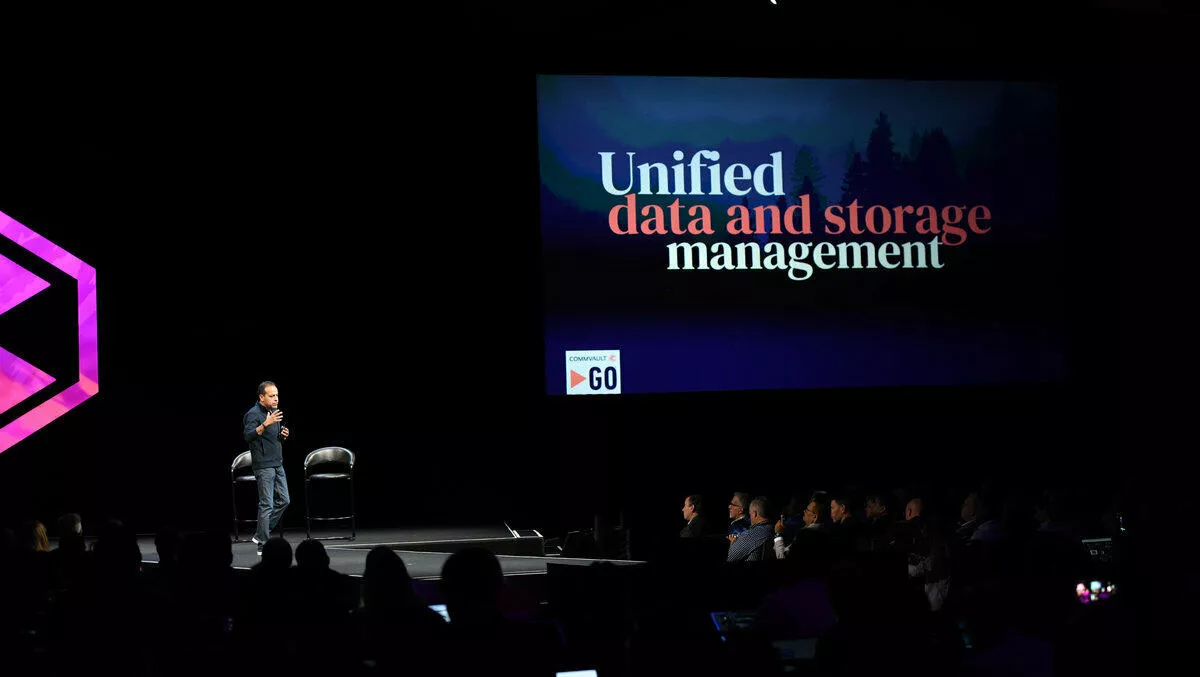 The latest on Commvault's Hedvig acquisition: the future of data storage
FYI, this story is more than a year old
At the beginning of September this year, Commvault announced the acquisition of Hedvig, the software defined storage company, for total consideration of $225 million including purchase price and employee retention.
In a public statement, Commvault stated the acquisition would aid the development of services and products that bring together storage and data management, and would help address the challenges that arise with the acceleration of data fragmentation.
This week, during the company's annual customer event Commvault GO, there has been a lot of buzz and discussion about the acquisition and what it means today and in the near future.
Don Foster, Commvault vice president storage solutions, is quick to acknowledge that it's early days, but says the acquisition offers many opportunities and plays into the company's broader focus of simplifying the customer experience and developing its product offering.
Why Hedvig?
As the first acquisition for Commvault, this was a well considered investment for the company.
Foster says, "[The acquisition] allows us to break out of the data management conversation and start thinking more strategically with customers about not only what are your cloud initiatives but what are your container initiatives, how are you making sure you have the programmatic control or attachment on what you're trying to drive on these different apps?
According to Foster, Hedvig CEO and founder Avinash Lakshman, whom is now officially part of the Commvault team under the title 'chief storage strategist', brings a welcome perspective to Commvault regarding the future of data storage.
"Avanash says the future is programmable infrastructure. The days of having separate silos, that do their own separate things and don't talk to other platforms, they're on their way out. So the sooner we can have a truly programmable infrastructure, from the storage layer into the data management layer, the better it's going to be for everybody - customers, partners, you name it," says Foster.
The technology behind Hedvig was already well recognised as being powerful and high value, but there was an element of risk in the fact that Hedvig was essentially a startup, according to Foster.
As Commvault is publicly traded, the company's financial results are available, which provides greater stability, removes the element of risk and increases accessibility for customers, he says.
New capabilities announced at Commvault GO
Among the announcements from Commvault this week was new capabilities for Hedvig that enable Commvault to unify multi-cloud storage and data management.
In the official statement, Lakshman says, "New capabilities converge many of the latest storage, container and cloud technologies, allowing enterprises to automate manual infrastructure management processes and simplify their multi-cloud environments.
"These capabilities enhance Commvault's value to enterprises today. They also show how the integration of technologies into Commvault's solutions portfolio will deliver enterprises the industry standard solution in a multi-cloud world."
According to the statement, the new software-defined storage capabilities will enable businesses to automate and simplify storage administration, reduce storage costs and accelerate time to value.
The capabilities include:
Container Storage Interface (CSI) support, which enables businesses to use Commvault for the management of Kubernetes and other container orchestrators (COs).
Built-in data center availability, to improve data resiliency.
Support for erasure coding, for storage efficiency.
Comprehensive support for multi-tenant data centers, including the ability to manage tenant level access, control, and encryption settings, which will allow managed service providers (MSPs) to deliver storage solutions across hybrid cloud environments.
Multi-data center cluster management, alerting and reporting, enabling businesses and MSPs to configure and administer all their data center's software-defined storage infrastructure from a single location.
Further plans are in the pipeline to use Hedvig's technologies to enhance to Commvault's data management automation and storage provisioning capabilities and expand its support for application containers and microservices.
Where to next?
As for Commvault's broader strategy and roadmap for the Hedvig acquisition, the team will continue to build out the strategy, and in the meantime Hedvig will continue to function as its own separate entity, says Foster.
He says, "We're still trying to figure out what's the right strategy. For now we're going to keep it as a separate Commvault venture."
"From an engineering aspect, we're going to run the engineering for Hedvig as its own separate thing, because they need to focus on the use cases and the value they need to deliver the customers. That's where the overlay team come in to drive the integration. As we start to see these things move we can start to angle the two technologies together so we can have the integration point," he says.
According to Foster, the team is looking at how to best combine Commvault and Hedvig all the way from the technology to the user experience. This includes looking at everything from the call home functionality on Commvault's data management platform, making sure this is tied to the Hedvig storage platform, to tying together the operational experiences and ensuring they operate in similar ways.
"Behind that, the next phase is how do we then unify the way the API calls are made? There's probably more heavy lifting that has to be done there as API calls are core of the substructure," says Foster.
Furthermore, the team will be thinking about the next evolution of products deployed, and where the data management platform can sit and run in-sync with the Hedvig storage platform, Foster says.
He says, "We have a lot of options on the table. A lot of it has to do with the speed of integration, where and how we integrate, and the innovation that folks like Avanash and our PM team can bring on top of what we've planned.
As far as the timeline goes, Foster says the team has some initial targets for December, more for the first early months of 2020 and then into the next fiscal year of April 1st.
The specifics of what the team is working on wasn't disclosed as Foster says, "We're mapping out what we're trying to achieve.
For partners, Foster says, "Short term we're not going to change much. As integration happens, we'll be looking at who are the right partners to push this through, who are the right distribution partners.
"There will be a number of conversations with a number of different companies and technology alliance partners around what makes sense and what doesn't, it's not just a one-way conversation."