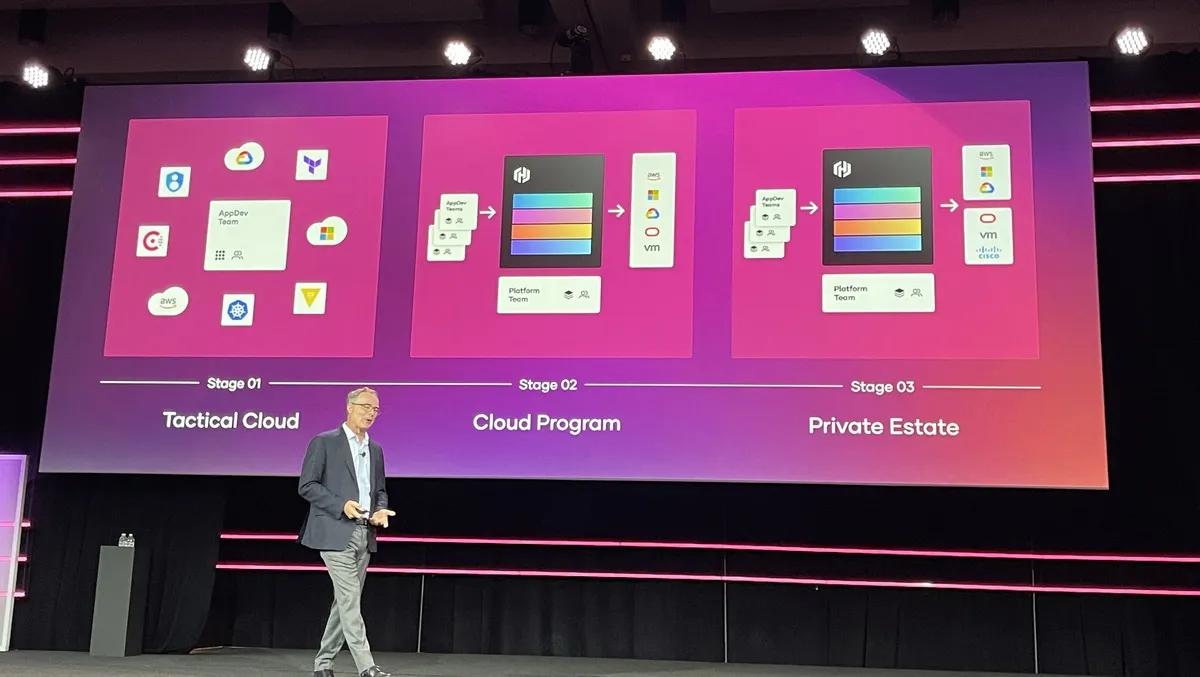 Who is HashiCorp, and why your cloud journey will be impacted
Thu, 6th Oct 2022
FYI, this story is more than a year old
By Sean Mitchell, Publisher
Mitchell Hashimoto and Armon Dadgar founded HashiCorp in San Francisco in 2012.
They witnessed a very consistent pattern of cloud adoption amongst enterprises and wanted to fix the deficiencies in the journey.
Stage 1 - Tactical cloud adoption
Almost every enterprise globally is on a journey to heavy usage of the cloud. HashiCorp sees this journey as starting with a tactical reason. A specific application that engineers within the enterprise want to adopt.
This sees them engaging them with a hyperscaler like Amazon Web Service (AWS), Microsoft Azure, Google Cloud Platform (GCP) or in Asia, Alibaba Cloud or Tencent Cloud.
What HashiCorp invariably sees next is an explosion of usage. Within six months, hundreds of services to support lots of internal initiatives start being used.
This is when the networking and security teams start jumping in. They worry about this new surface area that the company's credentials and data is being exposed across.
"It used to be a lot simpler to secure a data center. We used to focus on protecting the perimeter of the network, and identity was based on IP addresses. Our networks don't look like that anymore," said Armon Dadgar, CTO & Co-founder, HashiCorp.
At the same time, business trends like bring your own device (BYOD) and work from home (WFH), have continued to buck the existing IT department strategies.
Generally, this is where the engineering teams responsible for the cloud projects start using the open-source versions of HashiCorp's solutions.
Instead of taking an existing open-source software and wrapping support & services around it, HashiCorp approaches things very differently. All of its solutions have been born since the company was founded and started internally, then are open-sourced to the community.
"I've always thought that good software is not built by committee. So we act as more of a benevolent dictator in terms of our software and community. We want to be the lead driver of where our products are going," said Dadgar.
Very often, new customers just start with a single HashiCorp product to solve a particular pain point as the company doesn't particularly have a suite approach to packaging their solutions together.
"This means that customers enter the HashiCorp ecosystem at different insertion points and on different parts of their cloud adoption journey," Grant Orchard, Field CTO, Asia Pacific & Japan, HashiCorp.
Stage 2 - Cloud programme
With the most pressing issues for security and networking teams dealt with, the adoption of more cloud services continues.
The organisation now has vast numbers of siloed cloud services being used, with new services being provisioned regularly and across clouds from multiple different service providers (Multi-Cloud).
This complexity very often results in a cloud platform team being established, with the aim to have a more consistent and standardised approach enterprise-wide.
HashiCorp calls this the industrialisation of your cloud programme. Where a production line is needed to roll out opinionated and consistent approaches to areas like governance, identity management and remote access. The vendor calls these recipes 'Infrastructure as code', which illustrates how consistent and repeatable they are.
This scale is where customers start to engage with HashiCorp themselves and their commercial enterprise versions of their products. The difference between its open-source and enterprise solutions varies by product. Although the enterprise versions often have advanced features needed at scale and more sophisticated support.
The vendor has different pricing models, which are available as self-managed software or as cloud services on their HashCorp Cloud Platform (HCP), introduced two years ago.
"Customers reaching this level of scale and maturity start to realise that their business depends upon our products and thats when they often start to engage with our enterprise offerings," Megan LaFlamme, Senior Product Marketing Manager, HashiCorp.
Stage 3 - Private Estate
Once a lot of workloads are running securely, and with high levels of automation in the cloud, then the focus changes to taking this cloud approach and applying it across the IT department.
"Instead of just extending the customer's existing model into the cloud. The customer has learnt how to run cloud platforms, and they want to bring that success back to the data center," said Orchard.
The cloud then moves from being a methodology to a paradigm shift in how they approach their entire stack. It's a paradigm shift," said LaFlamme.
An example of this could be network infrastructure automation, which is made possible by an integrated collection of HashiCorp products.

This approach to guiding the customer through their cloud adoption journey and then bringing the benefits to their own data center, has taken 10 years for HashiCorp to perfect.
HashiCorp captures all of this in its corporate mission "A consistent way to provision, secure, connect and run any infrastructure for any application."
The vendor now has 3,600 plus customers, 2,000 plus employees, and 185 of the Fortune 500 companies use their solutions. This culminated in their listing on the NASDAQ in December 2022.
"The big three cloud providers are expected to turn over $160 billion next year, which leaves tremendous opportunities for us," said Dave McJannet, CEO, HashiCorp.