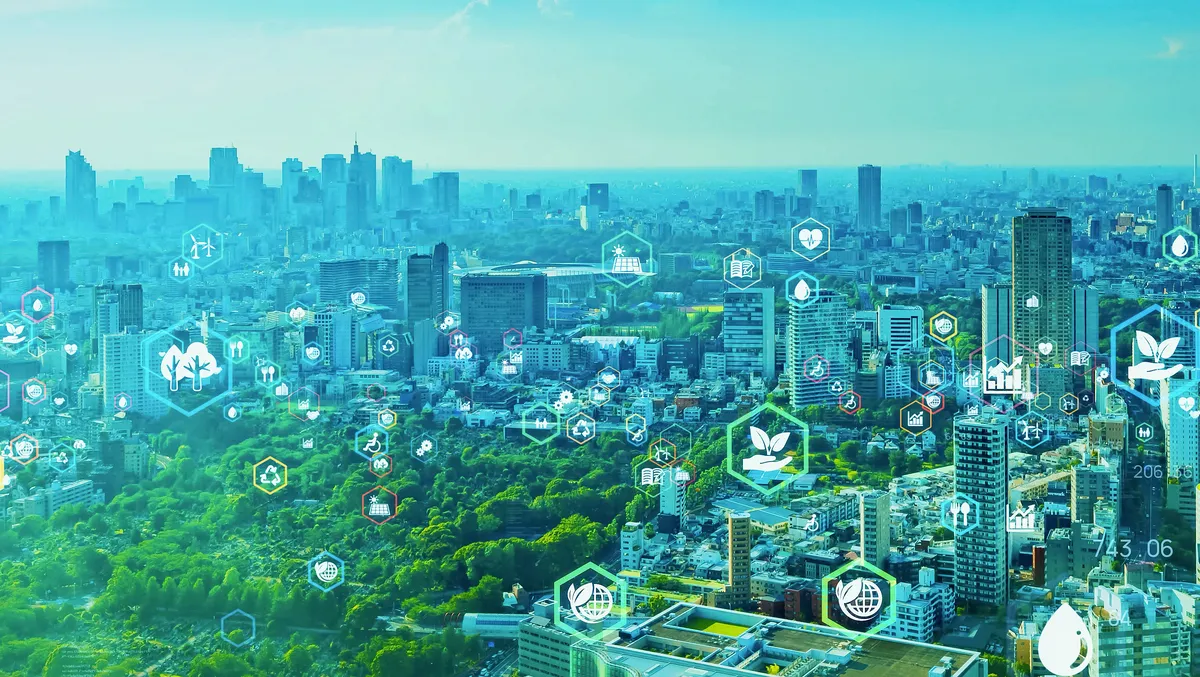 New data market concept to accelerate green transition
Data leverage is instrumental for solving the challenges of the built environment. Data can be utilised, for example, to reduce energy consumption and costs, to develop intelligent building maintenance, or to promote circular economy in construction. Better sharing of data between different industries and operators would accelerate this development.
VTT Technical Research Centre of Finland has partnered in a Nokia-lead project, which aims to develop these data markets.
Urban environments produce data at an accelerating pace, which is sped up by the development of 5G and smart buildings. Data plays an important role in promoting sustainable development, but currently it is not being utilised effectively. Data should be shared more actively between people, companies and different sectors of the society. However, sharing is limited because the rules for this are not clear. There are also shortcomings in the productisation of data, in defining its value, in data quality and in interoperability of systems.
The data market concept encourages data sharing
"To make full use of data, we need to adapt a new kind of approach and eliminate barriers that limit data sharing," says Kalle Kantola, who leads VTT's research area of strategic foresight and data economy.
"The DataMust project explores a new concept of decentralised and local data marketplace and incentive mechanisms as a solution to the situation," Kantola says.
The concept is based on a cell-based structure, which allows market players to bring their data solutions initially only to their trusted players. This way, data can be shared and processed locally for higher degree of control and transparency for the involved parties. As the trust grows, larger entities can be built from the marketplace cells, and data can be made more widely available step by step. Modular thinking also helps in the productization of data.
Kantola says the new type of marketplace encourages data sharing also by automating data creation and processing. Edge computing, artificial intelligence and digital twins offer some means to this, producing timely and optimally granular data for different actors in the society. This lowers the costs of data solutions, as well as the threshold for introducing products to the market.
"With the help of automation, highly processed data can be produced more cheaply and with solutions that integrate different sectors, making them profitable for all platform operators," says Kantola.
"This supports sustainable value creation and enables extensive market-based changes, e.g. in sustainability transitions."
Systemic change is the goal – solutions have potential for export markets
In a well-functioning data market, production of data corresponds to the market's needs. At the edge of data networks, data production and processing level can be adjusted according to demand and costs. When data is processed in a distributed manner, the amount of data transferred in information networks does not grow uncontrollably. This also curbs the energy consumption of data networks and server rooms.
The reform of the data market aims at a systemic change, where the sharing of data between different sectors becomes easier and network effects emerge. The DataMust project creates understanding, tools and methods to support this development. The data-based solutions of Finnish companies have wide potential in the export market, because the cities around the world need these solutions to achieve their carbon neutrality goals. By reforming the data market, these solutions can be developed faster, further promoting the green transition.
Nokia's Juha Salmelin says the project raises the integration of 5G networks, edge computing and data sharing to a new level.
"This promotes the creation and optimisation of a service development ecosystem that supports sustainable development across sector boundaries," he says.
"One element is Nokia Data Marketplace: a safe data sharing model for urban environments will be developed around this marketplace."
DataMust project is expected to last two years. Its participants are VTT, Nokia, Loihde, Sitowise, Cozify, COBA International and nollaE. In addition, the city of Espoo, as well as the city of Las Rozas and Sacyr S.A. from Spain are advisory partners in the project.
The total budget of the project is 4.2 M€. The project is part of Nokia's Veturi Edge Computing program. The project receives support from Business Finland's Low-Carbon Built Environment program, which is funded by EU's one-time recovery instrument.