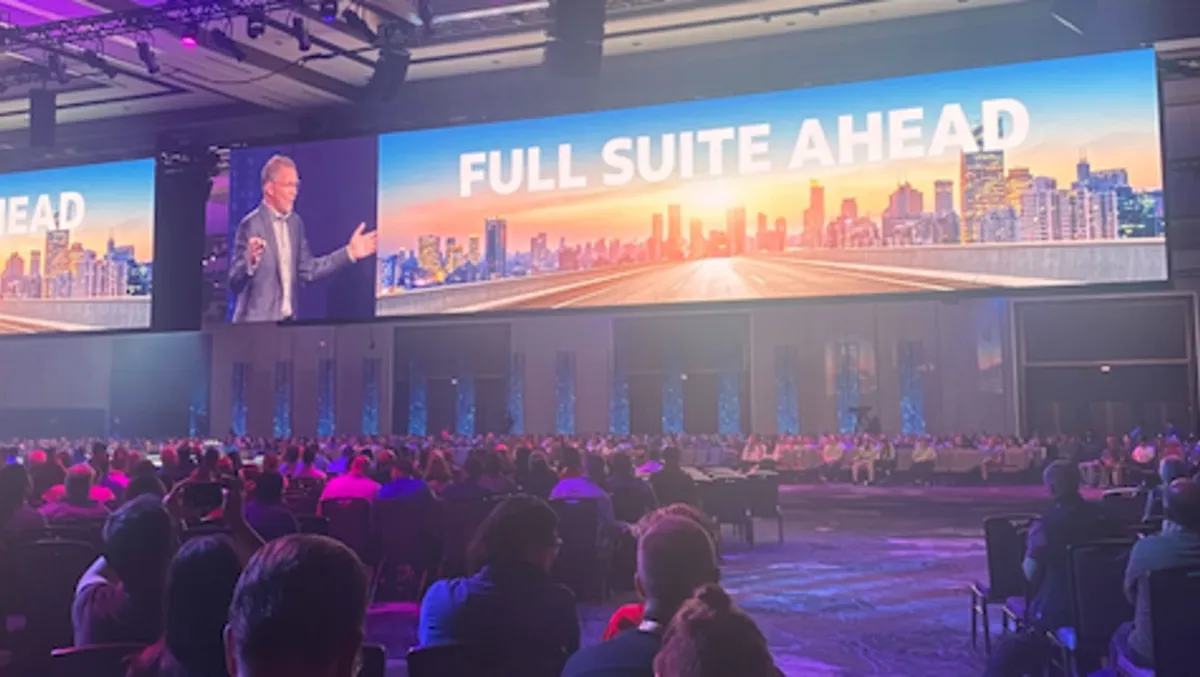 The Australian innovations on show at SuiteWorld
Mon, 3rd Oct 2022
FYI, this story is more than a year old
It's a wrap for SuiteWorld, NetSuite's global event attracting delegates from around the world to the bright lights of Las Vegas, Nevada. Over four days, my team and I have been immersing ourselves in all that's new in the cloud ERP world and reporting on significant product and feature announcements.
In our recap of day one and two, we shared all the big announcements from the opening keynote. This included new products such as NetSuite CPQ, NetSuite Ship Central, SuitePeople Workforce Management and accounts payable automation. On day three, we focused on new features and platform enhancements such as the roll out of Item 360, improvements to SuiteAnswers and a soon-to-be-released new NetSuite UI.
This time, I wanted to walk you through the expo floor, which opened on day one. This is where all the product experts and partners exhibit. It's also home to NetSuite TV - a complete tv studio set up, broadcasting interviews and demos live throughout the day.
There's also SuiteStore, for those wanting to pick up some SuiteWorld merchandising. Or, if you had a burning NetSuite question, the SuiteGurus booths had NetSuite experts on-hand to help out.
Back to the many partners showcasing their solutions with demos, presentations and merchandise in booths. Here are some of the innovative Australian – and Annexa partners – who were exhibiting on the the expo floor.
RF-Smart
While RF-SMART is American in origin, they have been steadily growing their ANZ footprint with an office in Melbourne. Their NetSuite barcoding and WMS solution is built in NetSuite, installs and works in minutes and meets NetSuite's highest standard for SuiteApp Solutions.
As an event sponsor, RF-Smart were busy sharing their advanced software solutions for distributors, manufacturers, and retailers on the expo floor and sharing insights with SuiteWorld OnAir. Their breakout session - Running an Efficient Warehouse with NetSuite and RF-SMART - filled fast too.
Infinet Cloud
Infinet Cloud were "proper stoked" to participate in SuiteWorld yet again - they've been attending every year since 2012 bar 2021 for obvious reasons. This year, their global team flew in from the UK, Canada, Australia and New Zealand. Infinet Cloud is a NetSuite-only software developer specialising in international payroll and business productivity solutions. They currently boast the highest-rated native SuiteApp. They were sharing their new product MyPay - a solution designed for NetSuite Customers who require employee access to NetSuite, including leave management and OCR expenses.
NextService from Next Technik
NextService - Next Technik's signature product – is a field service management app that integrates into the NetSuite platform. This fast-growing Australian company flew in delegates from across the globe to present in the exhibition hall and staff their booth. Since their last SuiteWorld trip in 2019, they have made several improvements to NextService, and their company has become an international entity.
Of course, it's not SuiteWorld without a glitzy closing party and this year did not disappoint with the crowd dancing along to Jessie James Decker and stand out performer, Nelly.
Every year SuiteWorld is a great opportunity to delve further into the product, strengthen partnerships and always great to connect with new and old faces in Vegas. The exhausted yet inspired Annexa team are now taking the long trip back home before sharing all that we learned with our Australian and New Zealand team and our customers.
If you could not attend in person and would like to learn more, NetSuite has made some keynotes, sessions, and demos available online until October 26, all accessible via the event website.